Dear Mama,
One thing that I have learned in my life is that each person handles challenging situations in their life differently.

Some internalize it while others really just need someone to talk to. For those that need to release it, finding the proper outlet can be tricky. This is just a process and may take some time. We have been on quite the rollercoaster with our almost 4 year old son. From a complicated pregnancy, to his diagnosis of Periodic Fever Syndrome, to his diagnosis of Sensory Processing Disorder, to his speech delay … it has been a lot to process. I chose to cling to my faith in God, but ended up vocalizing my frustrations about what was occurring in my life over social media. It wasn't until about 3 months ago when I decided to stop posting about these frustrations that I realized what was really happening.
I was circumnavigating through the stages of grief.
I came to this realization when my husband noticed I was "out of sorts". As I researched what I was going through, I found that many moms will go through the following phases when they are dealing with a child with special needs. Each stage plays an important role in learning to live a peaceful and positive life, which is SO important when you have a child with special needs.
Denial
Anger
Bargaining
Depression
Acceptance
Acceptance. I just reached that stage. This by far is the most difficult stage, but one that I welcome with open arms. See, I have realized it's a choice.
It is a choice to wake up everyday and find joy. It is a choice to turn bad days into positive ones, and gosh darn it, choices are hard to make. My son has some challenges, but he has so many POSITIVE things about him that I wasn't able to see until I got to the acceptance stage.
It has been a long hard road, but I have learned a lot about myself and more importantly my son. Below are some 'tricks' that helped our family and may help yours if you have a child with a lot of energy or a sensory seeker like mine. What is a sensory seeker you ask? Someone who looks for sensory stimulation. It could be all five senses or it could be just one. For my son, he is an oral seeker. So he puts inedible objects in his mouth and chews it up or swallows it. He also 'seeks' with his entire body and this sometimes can come in the form of playing too rough due to him looking for physical contact.
5 Tips and Tricks To Help You and Your Child With Special Needs
1. Experiment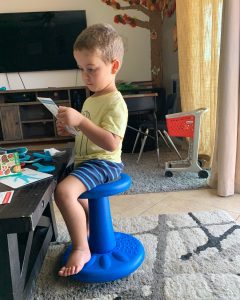 The first and most important thing that you can do is to experiment and find out what works best for your child and go with it. My son has a really difficult time sitting down to finish a meal so we eat the majority of our meals at the coffee table. Trust me this is not my ideal situation, as I would prefer for us to all eat at the kitchen table. We got a wobble chair from a company called Active Chairs, and it is the perfect height for the coffee table. So while he eats, he sits on his Active Chair and he can get through a meal without standing up and leaving the table. Our family is able to have a conversation and talk about the best and worst parts of our day. It has been a life saver for us.
2. School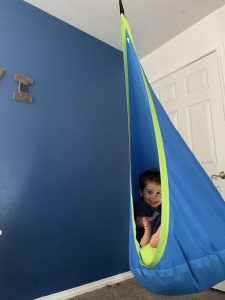 Distance Learning would have been the pits if it wasn't for my son's amazing team of special education teachers. For school I literally bring my pantry with me into his room. Crunchy snacks are key and to add a bit of fun, I squirt Whip Cream in his mouth if he is able to get through a zoom class. We purchased an indoor swing that has helped him a lot. It's a safe space for him and when he feels like he needs a break from the screen, he climbs inside and it and swings back and forth. I also purchase him chew toys and other weighted items from a website called Fun and Function.
3. Get A Dog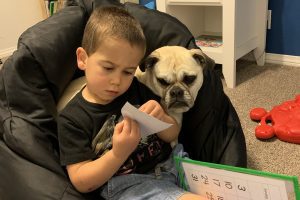 While I realize that this may not be an option for everyone, any pet or soft giant animal (even a stuffed animal) will do. Outbursts and anger can somehow be resolved by petting an animal. It completely releases all the tension in your body. For us, Bella is my son's emotional support animal. She does everything with him, including school.
4. Chiropractic Care and/or a Gluten Free and Dairy Free Diet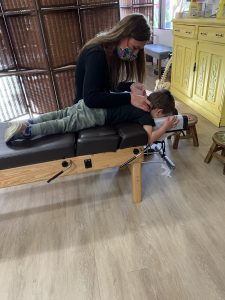 Did you know that a Chiropractor has the potential to help your child? It is a great holistic option for those that are looking for it and I can personally testify to the benefits that it has had on my son's overall well being. Chiropractic care is so much more than just getting your back cracked. It can help improve focus, motor function, and improve your child's overall mood and behavior.
A gluten free and dairy free diet definitely isn't for everyone and I believe that it has a different outcome for each individual. Both gluten and dairy cause inflammation in the body and sometimes by cutting out these items in your child's diet you can see an improvement with hyperactivity and an improvement in overall brain function. But, this option is definitely not for everyone and if you feel like taking the plunge, then I would chart any progress down and give it a full 3 months to see if you notice any improvement.
5. Fun Sensory Activities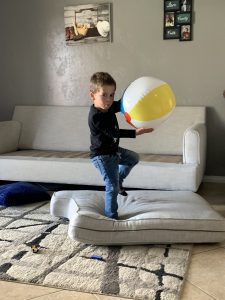 Fun sensory activities and items are endless, and for a parent of a child with special needs, thinking outside the box is a requirement. Things like shaving cream, bubbles, play dough and sand are great options! Here are a few items that we do in our house:
Animal crawls

Baking Sugar Cookies (a fun sensory baking project that also includes some proprioceptive input by having to use a rolling pin and push down on the refrigerated dough)

Weighted ball lifts and tosses

Bouncy Ball Races

Obstacle courses

Soccer

Golf

Baseball

Rock Climbing

Basketball

Finger Painting or Body Painting

Lava Ball (our personal favorite for rainy days that includes putting all your couch cushions on the ground and attempting to catch a beach ball or balloon while hopping from cushion to cushion without letting the ball or balloon drop onto the ground. **side note** If you have nice furniture you can use pieces of paper taped to the floor.

Anything to do with water (water balloons, swimming, or even a water sensory table)
Choose Joy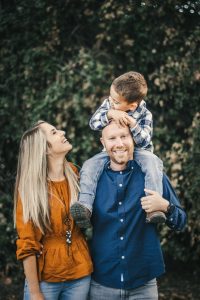 Everyday is a choice to wake up and put one foot in front of the other. These words have never been more true than for a parent with a child who has special needs. If you aren't there yet, that's ok. It's a process. Trust the process. Parents in general put all their energy into their children. It is a beautiful sacrifice, but a sacrifice nonetheless. When you have reached your breaking point, ask for help! When you wake up and feel discouraged, make a list of all the positive things you have in your life and all the wonderful things your special needs child brings to your life because they are the best blessing. Lastly, choose JOY. For me, finding that joy came in the form of just giving my son a squeeze every morning and saying, "I LOVE YOU" and choosing to find the good inside the chaos.
I hope this speaks to just one mom out there. Please know you are not alone and don't be afraid to ask for help!