We are so grateful to all the vendors and families who came out and participated in our 2nd Annual Family Safety Day. The event was filled with an incredible amount of safety information and resources and balanced with a full lineup of entertainment and fun.
A special thanks to our presenting sponsor, Children's Primary Care Medical Group (CPCMG). Find the best primary pediatric healthcare close to home with the region's only health network focused solely on children, their health and well-being!
With special appearances by McGruff the Crime Fighting Dog, Spider-Man and Black Widow sponsored by The Storybook Character Company, live self-defense demos by National City Jiu Jitsu Club, face-painting/balloon twisting Free Spirit the Clown & Company, upbeat music with thanks to Greg: Mission DJ – local families were entertained and educated through out the entire event!
---
How incredible is Green Flash Brewing? What a beautiful indoor and outdoor space perfect for any occasion.
---
We appreciate the participating sponsors that took the time to invest back into the community by sharing their wisdom and resources with local families.
---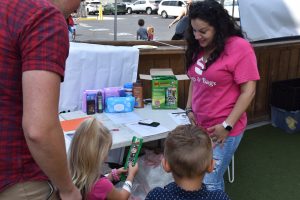 Hugs & Bags our non-profit partner, whose goal isn't to just give a hand-out but a hand-up to those that have fallen on hard times by providing all basic needs along with the human touch in the form of a hug. Our primary population has grown from Homeless Teens, Veterans to Immigrants, Single parents and anyone who may need assistance.
---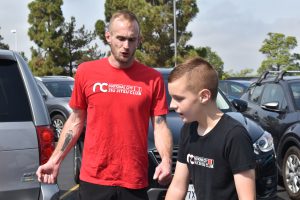 National City Jiu Jitsu Club hosted live demos sharing self-defense tips and techniques for parents and children. They are the perfect place for the whole family to bond and learn to defend themselves together.
National City Jiu Jitsu Club is a veteran owned, family run, small business that teaches self-defense, boxing, Jiu Jitsu and kickboxing to children and adults.
---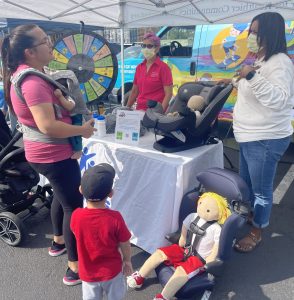 Safe Kids San Diego is a coalition of people dedicated to preventing unintentional injuries for children 0 to 14. Unintentional injuries are the leading cause of death for children. Safe Kids focuses on prevention through education, interventions, legislation and collaborations. Safe Kids San Diego focuses on the leading causes of injury and death in San Diego county. The top five are infant suffocation, toddler 2nd story window falls, drowning, motor vehicle crashes and bike/pedestrian crashes.
---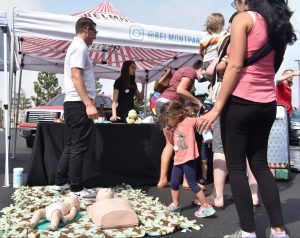 Need a place to relax, work out, get space from your children or even enjoy a drink poolside? Plunge is the place for you. The Plunge is proud to offer a full array of aquatic and fitness programs. They have 7 lap lanes that 25 yards each, a recreational side of the pool with an incredible obstacle course, a state-of-the-art basketball hoop, and a 1,000 square feet of functional fitness space on the pool deck adjacent to the lap lanes. Come see why Plunge San Diego will meet all your fitness and recreational needs for both athletes and families.
---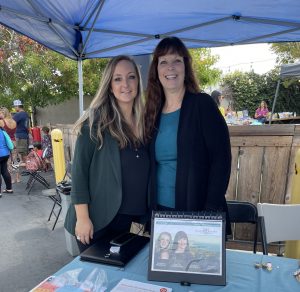 Kelly and Kara are known to their clients as the "K and K Realty Team." Kelly and Kara strive to bring energy and enthusiasm throughout the home buying and home selling experience. They deliver consistent communication, professional knowledge, real estate expertise and strong negotiation skills during their real estate transactions.
---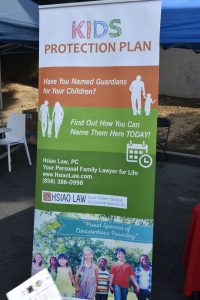 You can never be too prepared and Amy at Hsiao Law is not only an Attorney by trade she is also a mother. She knows first hand how important it is to have your estate in order in the event of a tragedy. Hsiao Law wants to ensure every family is protected. For those of you who didn't make it to the event, here is the complimentary link to name guardian for your children to ensure that they will always be protected in the hands of your loved ones.
---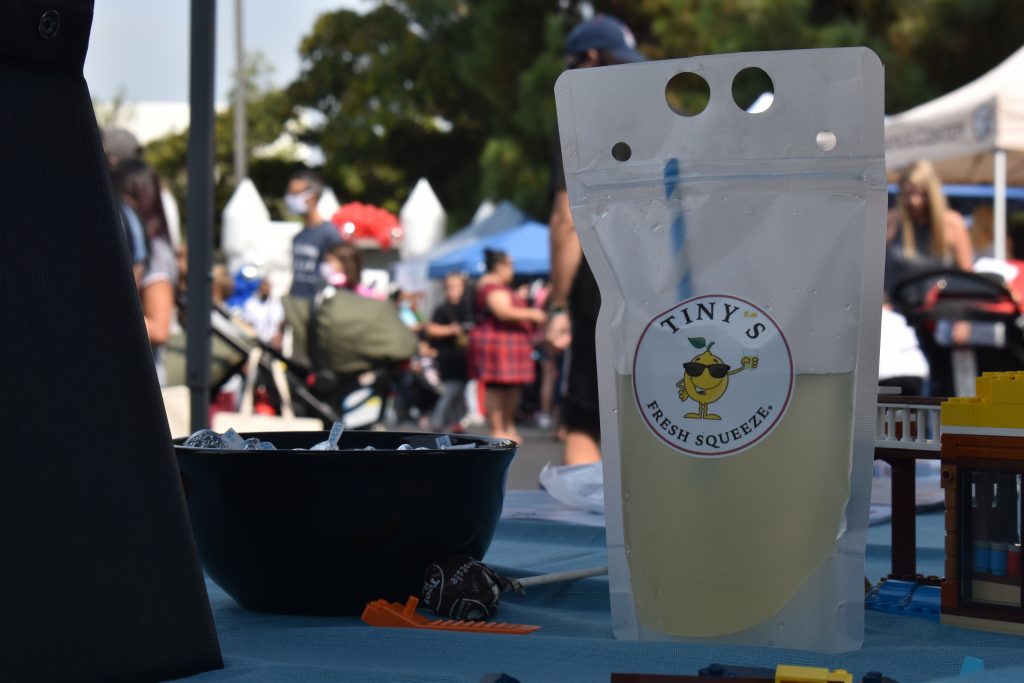 Tiny's Fresh Squeeze a 6 year old entrepreneur came equipped with fruit lemonade and tips on how to foster your child's entrepreneurial mindset.
---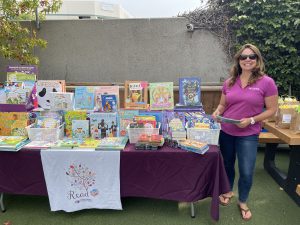 Renee's Book Corner is mom-run business featuring the best children's books on the planet, Usborne Books & More! Renee's Book Corner is mom-run business featuring the best children's books on the planet, Usborne Books & More! These books are high-quality educationally engaging, interactive and designed to get kids thinking while having fun. Whether it is a flap to lift, page to fold open or hidden picture to find, these books will help your child fall in love with reading.
---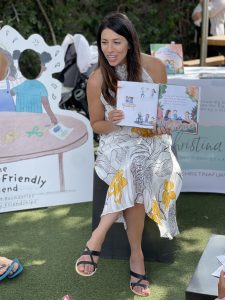 Therapist and Children's book Author Christina Furnival Real Life Mama. In her book "The Not-So-Friendly Friend — How to Set Boundaries for Healthy Friendships" helps children identify the right steps to seeking help and setting limits when it comes to managing bullying! Staying true to yourself, setting limits, and seeking help is often not taught by parents or educators, and this book will help guide children in managing complex problems appropriately.
---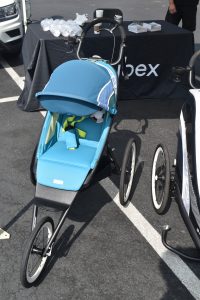 Stroll with usby HFS Sport was on site with their jogging strollers that were absolutely incredible. Designed for sport, the ZENO lets you take your little one along for all your outdoor adventures. Whether you're push-running, hands-free running, cycling or cross-country skiing, share your active lifestyle with your child while performing your best.
---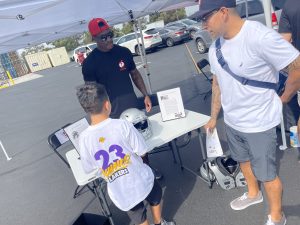 Fit Evolution LLC is a health and wellness company locally owned and operated in San
Diego by former D1 and Professional Athlete Jereke Armstrong. He provided some incredible helmet safety information for parents. Fit Evolution LLC is dedicated to helping people of all shapes, sizes, and experience levels optimize their health and wellness, improve their relationships, and and enhance their quality of life through fitness and nutrition.
---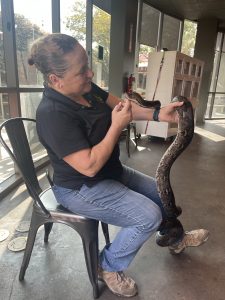 If you are looking to hold a baby Boa Constrictor that is the size of a 5 year old, look no further. EcoVivarium not only brought lifesaving tips, but introduced a variety of reptiles to the children. EcoVivarium is a nonprofit Living Museum located in Escondido. They feature live reptiles, amphibians, and arthropods. All tours are guided and allow for direct interaction with the animals! In addition to museum tours, they offer Birthday Parties, Private & Corporate Entertainment Events, Educational Programs, and more.
---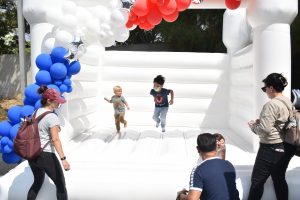 San Diego Bounce Eventsis bringing modern and stylish white bounce houses to sunny San Diego! Customize them with balloons or personalized vinyls to elevate birthdays, weddings and more! How cool was that bounce house??
The first 25 people to book their bounce house will receive $100 off their rental! Terms and conditions: Offer valid until 10/31/2021 – 50% deposit required for event to be booked – Deposit is non-refundable *unless due to inclement weather* Event must take place prior to 06/01/2022 Excludes all major holidays Not redeemable for cash.
---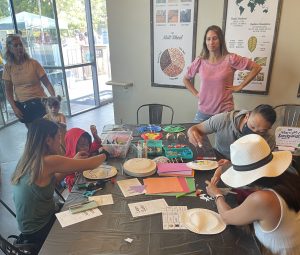 SD Circle of Moms sponsored our craft table and did such an amazing job!! They arean in-person moms activity group. They aim to provide socialization for you and your young children with a unique, jam-packed and varying calendar of events each month up and down San Diego County.
---
The San Diego County District Attorney's Office Victim Assistance Program provides comprehensive services for victims of crime. The goad is to meet the material, informational, and informational needs experienced by victims in order to contribute to a faster and more complete recovery from the effects of the crime.
San Diego Trafficking Prevention Collective is educating and empowering students in elementary, middle and high school about the ugly truth of human trafficking in our schools and neighborhoods through a three pronged approach- in-school prevention education, after-school intervention and interactive multimedia training.
Rady Children's Hospital – San Diego Transforming Mental Health Initiative focuses on the needs of the whole child. San Diego is implementing a multipronged approach to identify and deliver interventions to address the behavioral health needs of children and youth, including: integrating behavioral health with pediatric primary care, early identification and connection to services and support, partnerships, and education and research.
Your Safe Place – A Family Justice Center – YSP provides support to those who have been harmed by domestic or family violence, elder or dependent abuse, sexual assault or sex trafficking. It offers a safe and confidential space to help meet the needs of victims and their children.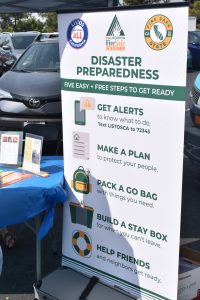 The mission of the Fire Safe Council of San Diego County is to provide an exchange of information through education and training, and to foster fire prevention and safety throughout the San Diego region Vision: The vision of the Fire Safe Council of San Diego County is to foster a fire safe / fire wise region that has developed through an ongoing course of public education, training, and community collaboration in project support.
Thank you to everyone that joined us at the event and all of our incredible partners! We will see you in the spring time with our next Family Safety Event!!