The ultimate shift in our schedule has happened. You are probably already living this: our school-aged children are home for the next four weeks or more. It is up to us to keep them on a schedule. Many online resources have become popular for keeping their young minds sharp while they aren't in a classroom. Our mothers who homeschool have been prepared for this day long before the coronavirus was in existence. You homeschooling mamas rock!
Daily schedules have been a popular topic among my group of school mamas. We are all hunkering down for being asked 20 questions in a 30-second span. I am resolving to use less screen time. As useful as it may be to keep my daughter entertained, I'm proposing to only have educational screen time in the late afternoons for her. I have also started rummaging through my stash of old college ruled notebooks to whip up easy worksheets that mimic some of the ones from the classroom.
Our mornings now consist of journaling for her, and composing emails for me. Breakfast and making beds. Then a worksheet before a morning walk if the weather permits. If she doesn't eat all the snacks in one week, then maybe a small snack before we do a little house chore. Every day I want to teach her a life skill. It only takes a month to practice before it becomes a habit, right? These skills will include vacuuming, sweeping, dusting, wiping surfaces, laundry start to finish, cooking, meal planning, etc.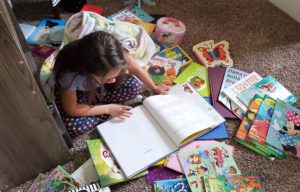 Afternoons will still be reading time, showering, hair brushing, and getting things ready for the next day. We will play outdoors and go on treasure hunts in the backyard. If there is any screen time, it might be around the time I start clanking around the kitchen to get dinner going.
We weren't one of those families that went crazy hoarding paper goods and whatnot, but we did manage to get most of the food we needed before shelves were empty. My daughter walks past empty shelves and doesn't blink. To my husband and I, it feels very eerie. It saddens me to think that this is what normal will look like for a little while in her childhood, but he and I both agree that we won't panic. So, everyone, DON'T PANIC!
Let's take this time at home with our kids to show them that we, as humankind, can be adaptable. Us as parents are still their first teachers. Let's teach this generation the importance of good hygiene, being respectful, being a good neighbor, and being calmly ready for anything.
For you mamas out there who might feel like you're going to lose your mind, hold tight. This will pass and schools will reopen and playdates will be a thing again. If anyone needs someone to confide in, a virtual pen pal, or some creative ideas, please don't hesitate to contact me. Reply to this post as a comment, send me a message. Anything.
Stay safe, stay healthy.