I look forward to the Super Bowl every year. I always have a gathering at my house, with lot of food and drinks for every taste. Although it's a little bittersweet because the football season is over, I love sending it out with a big bash where everyone eats themselves silly. In the spirit of this great day I have compiled a list of my 10 favorite foods (and drinks) to serve Super Bowl Sunday. While some of them may seem a little too boring, there are fun ways to put a spin on old favorites.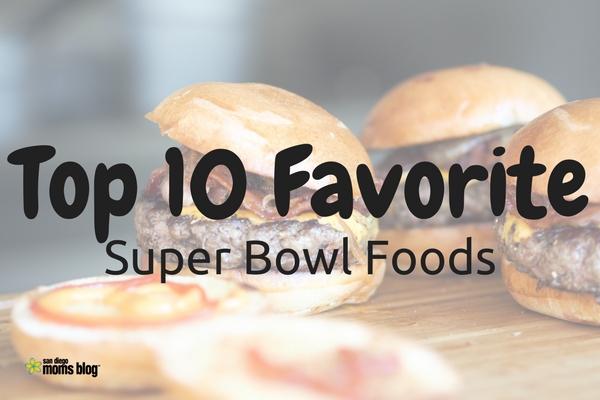 Dips: I have a confession to make, I love onion dip. Yeah, yeah I know it's boring. But seriously, I can't have it in the house because I have zero willpower. That being said, there are so many dips that are great football food. Spinach artichoke dip like this one goes really well with little slices of bread. It comes out of the oven warm and gooey, and it is great if it happens to be chilly on Super Bowl Sunday. A fan favorite is beer cheese, like this one, and I think it's wonderful because it's quick and I usually have the ingredients on-hand. In San Diego we are lucky to get delicious avocados and I am kind of a guacamole purist. I love guacamole and tortilla chips, but my secret is just letting the avocados speak for themselves. I only use avocados, cayenne, garlic salt, and chopped onion. And there is never any left over so I don't even have to bother with lemon!
Veggies: Not everyone loves to pig out on unhealthy food Super Bowl Sunday, and having some vegetables for guests to enjoy as a lighter option is always a good idea. I like to do this because I can really have fun with it. One of my favorites is this one I found on Pinterest.
Sliders: These are a great way to feed a crowd and are simple to make. Pulled pork, pulled chicken (both great out of a crockpot), meatballs, ham and cheese, and pizza are all great fillings for sliders. I love to make these because you can use a big package of dinner rolls and knock out 12 sliders in a matter of minutes. These are also good on those chilly days because they are nice and warm, as well as filling!
Pigs in a blanket: These delicious little snacks make my tummy happy. It's probably some childhood thing that I never quite grew out of, but oh well I love them. While not the most sophisticated of foods, I think they are so good. All you need is a packages of mini sausages (like Lil Smokies) and a canister of crescent rolls. Slice the rolls in half and roll up the sausages inside, then bake and viola! Sometimes I like to mix it up a little and roll them in bacon too, because who doesn't love bacon?
Pizza: This is a staple in my house for football. Whether I grab frozen ones from the grocery store, order delivery from somewhere, or buy all the ingredients and let everyone make their own, you can pretty much always find pizza in my house on Sundays. The make-your-own idea works well for kids who may be a bit bored by the game. They can stay occupied for a while with creating their own little pizza masterpieces.
Chicken wings: I swear my boys cannot live without chicken wings. I like to make them myself using a deep fryer, Frank's Red Hot, and butter. I just fry the chicken until it's nice and crispy, and melt the butter in a pot with some butter. Then I toss the wings in the hot sauce mix and serve while they're still warm. You'll need a lot of napkins though!
Pretzel Bites: Pretzel bread-like snacks seem to have been very popular recently. Pretzel buns are easy to find now and make a great alternative to plain buns. These pretzel bites from Pillsbury are a delicious twist on normal bread used for dipping. You can also make your own without the refrigerated dough, although they are quite a bit more involved. PS-these are so good for dipping in the beer cheese.
Mac and Cheese Bites: Looking for something easy for the kids to eat that won't make a mess? These mac and cheese bites are almost as easy as making a box of mac and cheese, but they're baked so they can be eaten as finger foods. Less mess, less cleanup!
Desserts: I always have a lot of fun with desserts. I like to make things that I can adjust to a certain team's colors. My go-to is rice krispie treats. They can be made in large batches and any color combination you can think of. There are so many things you can add to make it fun, such as chocolate pieces, salted caramel, or bits of pretzels, just to name a few.
Drinks: One of the easiest (and most fun!) ways to color coordinate a party is to make a drink that is the color of your team. A large, clear glass decanter is perfect for serving a big party and showing off the colors. There are tons of recipes out there for colorful drinks, both alcoholic and non-alcoholic. My favorite is blue curacao with rum and sprite, which makes a very pretty blue cocktail.
What are you making to enjoy the game this weekend? Let me know in the comments below!