We love living in San Diego, but sometimes a change of pace does the mind and body good. We surveyed local Moms to compile a list of the best getaways you can get to in under 3 hours.
Use this guide for hotel suggestions, and top tips to help you plan your next weekend trip!
Catalina Island – 1 hour 10 min to Dana Point Ferry Landing, + 1 hour ferry ride from San Diego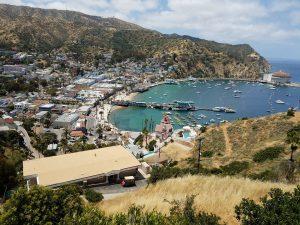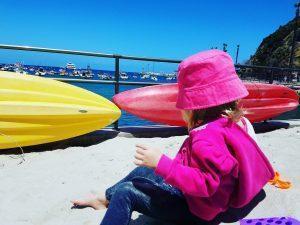 For those looking for an island-style beach vacation, look no further than Catalina Island. Located about 40 miles west of Dana Point, Catalina Island offers an array of family activities. Enjoy snorkeling, glass-bottoms boat tours, miniature golf, and more, as you soak in the beauty of this unique vacation destination.
Top Hotel Pick
Bellanca Hotel is great for families since it offers a variety of room types, free bike rentals, and one of the best views from their dining patio. Many of their rooms also have private balconies.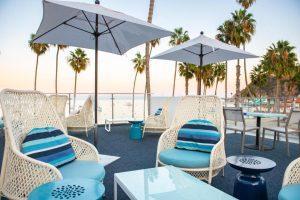 More Family-friendly Lodging in Catalina
Top Tip
Consider renting a golf cart and taking your family on a mini Catalina roadtrip up the mountain. There is so much to see in Catalina and a Golf Cart can be a great way to explore the island.
---
Idyllwild – 2 hours from San Diego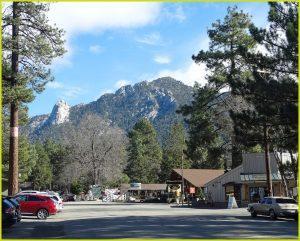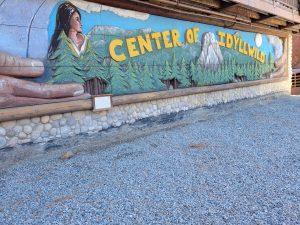 The beauty of Southern California is that you can go from the coast to the mountains in a couple of hours! Idyllwild is a quaint mountain town located near Palm Springs. You can find scenic hiking trails suitable for all ages, and downtown Idyllwild has a variety of shops and restaurants – many that offer live music.
Top Hotel Pick
This rustic cabin-style lodge gives off true mountain vibes, and the surrounding property, complete with a Koi pond, is perfect for little explorers! There are various rooms, some with a separate living room, and the location is within walking distance to some of Idyllwild's top restaurants.
More Family-friendly Lodging in Idyllwild
Top Tip
The Rustic Theater in Idyllwild has new release movies, and also live music on different days of the week. Movie tickets and snacks cost much less than our theaters here in San Diego, which make this cute and affordable venue one of our favorites!
---
Big Bear – 3 hours from San Diego
Families that enjoy fishing, boating, and lake-life in general, will LOVE Big Bear! Big Bear is known for its large lake, snowy hills in the winter, and cozy cabins.
There are plenty of outdoor activities to do here year-round, and it is a nice change of pace from busy beach life in San Diego.
Top Hotel Pick
If you have a large family, or you want to take a trip with another family, this 5-bedroom cabin will be perfect for you. It has large family rooms, a spacious backyard, and is a short drive from the city center. Plus, it is rated exceptionally by guests who have stayed there.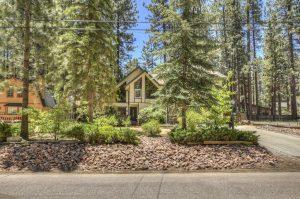 More Family-friendly Lodging in Big Bear
Top Tip
Miss Liberty Paddlewheel is a Sternwheel boat tour that slowly treks around Big Bear lake while a narrator provides history and fun facts about Big Bear. This is a great way to unwind if you've had an active day.
---
Laguna Beach – 1 hour, 30 min from San Diego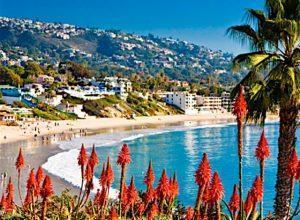 Laguna Beach is an upscale beach community located in Orange County. If you are in the mood for beach fun during the day, and world-class cuisine at night, this is the getaway for you! Families will enjoy walking paths and tidal pools at Crystal Cove State Park.
If you visit during the summer, be sure to check out the world-famous Sawdust Art Festival, where you can see the works of hundreds of artists displayed in Town Square near the beach.
Top Hotel Pick
This beautiful ocean-front hotel offers several amenities for family fun, including: bike rentals, water sport rentals, cornhole and various lawn games, and more. The morning coffee service, and sparkling pool, are just more reasons to love Hotel Joaquin! We recommend this hotel getaway options for parents only.
More Family-friendly Lodging in Laguna Beach
---
Palm Springs – 2 hours from San Diego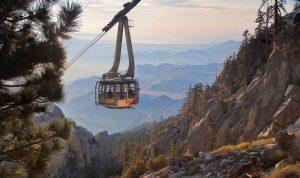 Palm Springs is great for people of all ages and interests. Known for it's trendy art-deco hotels, Palm Springs offers a variety of indoor and outdoor activities. Families will love the Ariel Tramway which takes you up 2 miles along Chino Canyon while you look at the incredible views as it slowly rotates 360 degrees. There is even a restaurant at the top of the mountain you can stop at when you're done!
Top Hotel Pick
These Villas are a great option for families since they have separate bedrooms, and kitchens. There is a large pool complete with water slides, a video game room, and basketball courts. The resort is beautiful and parents will enjoy all of the onsite accommodations.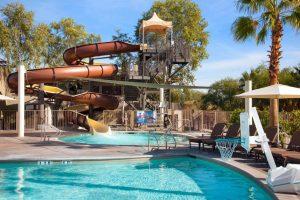 More Family-friendly Lodging in Palm Springs
Top Tip
If you plan to take the Ariel Tram, make reservations ahead of time. While you can buy tickets day-of, it is often times booked.
Do you have a tip or hotel recommendation you would like to add? Email [email protected].