As I rode down the rocky lane atop a chestnut brown mare, I glanced at my little six-year-old, Devyn. She was riding gracefully on a horse next to me. Grinning ear to ear, she trotted her horse too, easily keeping pace with mine. The island of Paros draped like a painting of perfection beyond as the sea glistened its unique shade of blue-green, a color unique to the islands of Greece. The serene white houses and blue-topped domes completed the idyllic scene.
AN ACT OF BRAVERY
My Devyn-girl had never ridden a horse all on her own before out in the great big, unprotected world. And there she was, riding like a pro — powerful, strong, and capable without ever having had a riding lesson in her life. With a few simple instructions, she was able to handle the horse and enjoy the experience fully.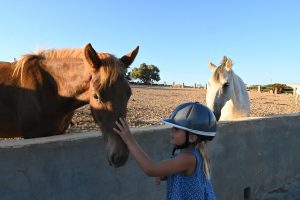 Yet, for me as her mom, it took an act of bravery. I had to let my six-year-old go enough to give her the reins of that horse and trust her to lead it around a Greek village, down a seaside path, across a pasture, along roads with cars. She wasn't scared. I was.
TRUSTING KIDS
Here's the thing: often, kids can be trusted to do big things. We give kids far too little credit. They are observing all the time, connecting the dots from one experience to the next, learning, growing, remembering. Kids are incredible at the art of gleaning.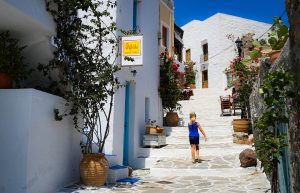 In her own way, my animal-loving Devyn had been "learning" to ride a horse for years, by watching others, studying pictures, seeing riders on DVDs, and reading books. When the opportunity came along to ride her own horse at sunset along the coast of Greece, she was ready.
HOLDING THEM BACK
Last month, my eldest daughter, Reagan, turned ten years old while we were on the nearby volcanic island of Santorini. She's always been a great swimmer, and her big ask for her birthday was to become a scuba diver. She bravely asked to do the full diver course and get the lifetime card as a professional. She wanted her dad to film the whole process for our YouTube Channel so other kids her age could also be inspired to do this big, brave thing of becoming a scuba diver.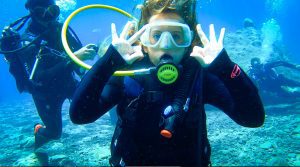 According to international law, a kid has to be ten years old to take the course, so on day two of being 10, she was ready to dive with her instructor – a former Navy Seal in the Greek army. It took courage, resilience, and a whole lot of stamina, but she completed the course. A few days later, she was officially awarded her scuba card, along with professional diving status.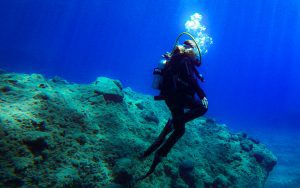 RISING TO THE CHALLENGE
It's us who tend to hold our kids back, fearful for their safety or concerned about their supposed fears. But when we respond to their brave requests with trust and a firm belief in them and their growing abilities, they rise to the challenge, again and again.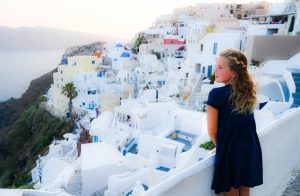 YOU CAN DO IT! 
As moms, our role is to grow our kids' confidence, resilience, curiosity, and courage. Let's TRUST them to do big things, take on big challenges, and believe in them enough to let them try, fail, learn, and grow.
Let's communicate – GO AHEAD, KID. YOU CAN DO IT!