Looking for a family-friendly, low-cost hobby to engage in with your kids? If you haven't given fishing on a San Diego pier a try, it's time to head over to San Diego's Best Kid-Friendly Fishing Pier: Coronado Ferry Landing Pier. Read on to see what my family loves about this pier, and some tips to make your visit great!
Fishing is a fantastic activity to get a child out of the house, away from the screen, practice fine motor skills and coordination, and slow down. It also encourages good old-fashioned family time and striking up conversations without distraction.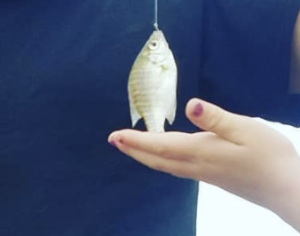 Pier Fishing is Free for All – No License Required!
Public fishing piers in the San Diego area do not require a fishing license, which is a great benefit if you or your child are new to fishing (or even if you aren't!). This is not only a money-saver but a time-saver, as there is no need to plan ahead to purchase a day or annual license. Use the money you're saving by not buying a license to grab fishing essentials to get reeling!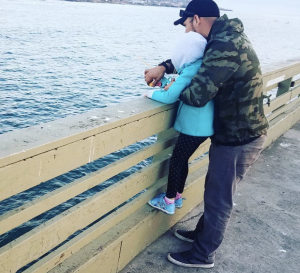 Coronado Ferry Landing has the Amenities you Need
When I am planning a day out with the family, high up on my list of priorities are the following: parking, restrooms, and access to food. Coronado Ferry Landing has all three within close walking distance of the pier. The Ferry Landing has a free parking lot, making access to the pier an easy walk. This definitely matters when walking with small children and carrying gear! There are two restroom locations at the landing, which are regularly maintained and stocked. While there are many eateries on-site, our favorite is Village Pizzeria. They have a walk-up window for quick, to-go orders, as well as a dining area for when we are ready to unwind.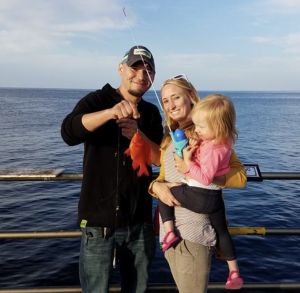 Packing for Your Day at Coronado Ferry Landing Pier
In addition to keeping the amenities listed above in mind, we pack for an afternoon by the water. This means preparing for weather changes, checking the local tide reports, applying sunblock, and packing other essentials to make the fishing experience easy and fun. We load our folding wagon with our poles and tackle box, a small cooler stocked with cold drinks, snacks, a bucket (in case we catch anything!), sanitizer or soap (there is a faucet on the pier), and folding chairs.
Fishing requires a bit of patience, so bringing activities for your child to do can be a life-saver. I found these tips to be extremely helpful in keeping our daughter engaged. If both parents are present, we take going to the sandy beach with her to play in the sand and water while the other parent watches the poles. As a matter of fact, you may as well throw sand toys, a towel, and swim gear in the wagon just in case!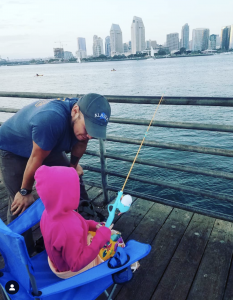 While there are many piers in the area, San Diego's best kid-friendly fishing pier is at Coronado Ferry Landing! Hope to see you there!
Looking for more inspiration to get your child to try something new? Check out this post about encouraging kids to try new sports!