Have you ever found yourself wanting to enjoy a nice water side bonfire, but find yourself unmotivated to actually do the work involved? A bonfire sounds like such a simple endeavor, but there can be a lot of prep. Just thinking about finding wood for the fire, packing enough to entertain the kids, deciding what food to take, and locating an actual spot for the bonfire makes me tired. I knew I wanted to enjoy a bonfire this summer with my family. Luckily, I found San Diego Beach Fires at just the right time.

San Diego Beach Fires
San Diego Beach Fires offers a complete bonfire set up for your party. You could have a romantic night for two or even an extended family outing. Their standard set up includes chairs, one side table, tiki torches, a fire pit, enough fire wood to last the night, and of course the big crowd pleaser; s'mores for everyone. They also have an extensive list of potential add-ons for your evening.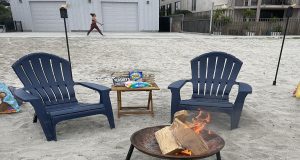 You can choose from two different three-hour time slots for your bonfire, but they can be flexible on time if you reach out to them prior to booking. Their website lists all of their available locations. And if you can't decide, have them suggest a location based on your needs. Also, if they are able to reach the area you live in, they can bring a bonfire straight to your backyard. The pricing is pretty fair and starts at $165.
Fun For All
Our experience was nothing short of perfect. The earliest time slot they offer during the summer is 630pm. However, we were able to have the time adjusted to 6pm no problem. This made it easier to get home in time for our little one's bedtime. On the day of our bonfire Travis reached out and suggested an alternate location for our bonfire since we were a smaller party and it turned out to be just what we were looking for. A nice quiet, low traffic area right on the water.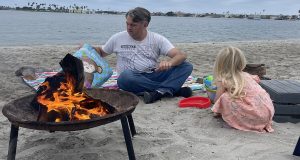 We arrived right on time and Cole already had everything set up and ready for us. He was also very helpful about an hour later when our fire went out (thanks so much again Cole!). And when our time was up all we had to do was pack up our personal things and head home. Cole handled all the clean up for us.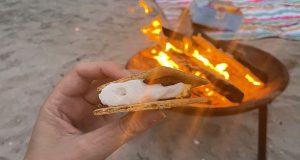 Thanks to San Diego Bonfires my husband and I were able to enjoy some relaxing time by the fire while our little one played in the sand all night. Our experience was worth every cent we paid and I can not recommend San Diego Beach Fires enough. Another great thing is that bonfires are good for anytime of year. So next time you're celebrating a special occasion or want to do something extra special for date night look up San Diego Beach Fires. You can look them up on Instagram at @sandiegobeachfires to see all the fun you could have!