I grew up mucking stalls, riding horses and baling hay! Yes, my childhood looked a lot different from my daughters, and that's OK—she is one lucky girl to be growing up in San Diego.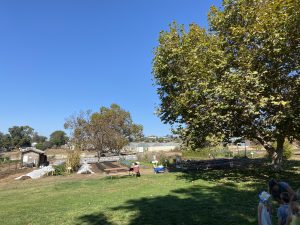 But there is something about experiencing "farm life" at a young age that I truly believe is the foundation for who I am today—with a strong work ethic, a love for animals, and a grounded heart. So, when I had the opportunity to take Kaia to Coastal Roots Farm's new After-School Farm Camp, I was BEYOND thrilled to re-create that experience for Kaia.
As we drove into Coastal Roots Farm, located in the beautiful city of Encinitas, both my daughter Kaia (4.5) and I felt like we had left San Diego. At the 17-acre farm that consists of everything from vegetable production fields and gardens to compost operations and chickens, you are able to truly step away from normal life.
MOM to MOM: I want to share with you WHY every child (ages K-5) should attend After-School Farm Camp at Coastal Roots Farm.
Before I do, if you want more info on the camp, you can check out this post HERE for more details on the camp itself or head to the Coastal Roots Farm website.
The Experience
From start to finish, my daughter Kaia was engaged, trying new things, and really excited to learn. We joined a camp that was already in session, but that didn't affect our experience. Kaia was greeted by her peers and two camp leaders, who immediately introduced everyone. Each camper has a camp nickname. Kaia picked "Kitty Kaia".
We went straight out to the vegetable field and picked vegetables (that they would later learn how to pickle). She tried three new vegetables that I could NEVER get her to eat and they cut the veggies, put them in their jar, and learned how to pickle vegetables.
From there, we had snacks and did story-time and then it was off to the chicken coop. Here she held an egg, learned about chickens and how eggs are made. Then it was off to the worm pit! Kaia was engaged from start to finish.
Coastal Roots Farm Vision Is Built Around Communities Coming Together and It Shows
This has been a very difficult year for us as moms, so imagine how hard it has been for our kids. Coastal Roots Farm created this After-School Farm Camp to offer a childcare solution for families that offered more "green time than screen time" and was affordable. With distance learning and parents out of work or working from home—WE NEED HELP. This program runs for one month, 2 days a week, and there are two sessions each day. (camp details)
The term "affordable" is irrelevant to me personally, because COVID has changed (for a lot of us) what is affordable, and we are having to make hard decisions to get by. They offer FULL and PARTIAL scholarships with ZERO paperwork or questions asked. When I learned this, I was humbled to hear that this opportunity can really be for any family.
Teaching Kids Where Food Comes From, Why It Matters, and How They Can Help Change the World
This is the goal of the After-School Farm Camp and I can't stress enough how important this is for kids to learn. If we can teach our kids to appreciate and value these things, that many of us so often take for granted, they will grow up being more forward-thinking and environmentally conscious adults.
Getting Dirty Is, In Fact, GOOD for Your Kids
It builds character, it is FUN and well it's important for your kids to get out and experience farm life and that means getting dirty. We held worms, we learned about composting and well held more worms.
Farm Chores Will Have Your Kids Begging to Do House Chores
Well, maybe not, but I can vividly remember waking up early to go clean stalls at the barn. I was working there to pay for my horse-riding lessons. I couldn't understand WHY my parents wouldn't just get me lessons, but now that I am a mother I know why. You learn how to be a hard worker.
Farm chores are a small aspect of the After-School Farm Camp, but when I saw that on the list of activities I am not going to lie—I wanted Kaia to muck a stall. When you can learn and appreciate and value all of the different aspects of a farm and being around farm animals, you are humbled, you have to work hard and there really is no messing around there for safety reasons!
The first thing out of my daughter's mouth when we got into the car to leave was: "When are we going back?"
Ready to sign up?