Why my Christmas tree will never be a "Martha Stewart" tree,
BUT always be a loving hodgepodge of randomness.
Tradition.
Christmas tree ornament traditions.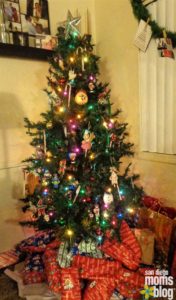 Honestly, growing up I never had this sentimental Christmas item thought, but when entering a marriage with my husband he did bring some wonderful traditions with him. This tradition, is literally to blame for my trees' randomness throughout the years, but I couldn't love it more!
Every year, on the hubby's side, Grandma buys all her grandkids an ornament. It is something normally tying into their favorite things, age, or something special from that year. She always writes their name and year on it. So, we've adopted this tradition to our lives, especially our kiddo's life.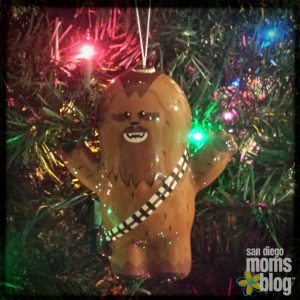 Obviously the traditional "First Christmas" ornament is there, but we try to think about what big changes we had that year. Like starting school, seeing The Nutcracker, our first time to Disneyland, you get the idea. Don't get me wrong, not all of the ornaments are only markers of happy things. We also get ones to remember loved ones or pets lost. Like we got "Zero," Nightmare Before Christmas' ghost dog the year our pug past. We also got a "Chewbacca" the year we got our Chewy ("Chewie").
Not all our ornaments are store bought either. No, not all are kid made either. When our kid was at daycare, her awesome provider was also very crafty and talented, so we bought one from her, personalized with a penguin for the kiddos penguin addiction, so it marked two great memories. Feel free to check out her stuff at Judi's Creations, seriously love them! Not biased. I also have made some of our own to mark some events, like this one from my holiday post on my old blog (pictured above). We also like to go to those ceramic painting places and make ones depending on the year, time or money on our side.

My dad's side of the family also has a really fun Christmas Ornament Game, that also keeps my tree far removed from the "pretty" trees. It's an ornament exchange, but not in a "trade" or even "White Elephant" way, but an Actual Game!
Game Details: So we all bring an ornament of some importance or representation of us. We write a little note or story and wrap it however we feel. At the party, we all get in a circle, grab an ornament of whatever calls to us. Normally, my Tia or sometimes cousins chose to be the "Story Reader." They then read a hilarious story with lots of LEFTs and RIGHTs in it. As it's going we try to keep up and pass our ornament to the right or left until the last The End is read. What you have is what you have. It's fun, you learn more about the family and it provides some fun memories.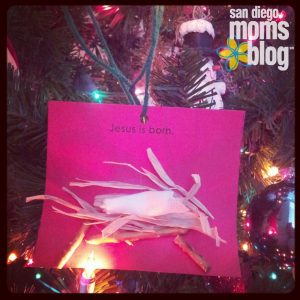 With all these memories, I could NEVER have one of those Martha Stewart trees, no matter how pretty they are! And, if you have a fancy tree, I must know…. what do you do with the kids' school craft ornaments? Tiny kid tree? I have always been curious! Please let me know in the comments below!
What does your family do ornament wise? Do you also have a fun tradition tied to it? Or a new game we need to try? Share it with me!
Merry Christmas & Happy Holidays to You!!! <3