Dear Son: My heart for you on your graduation day.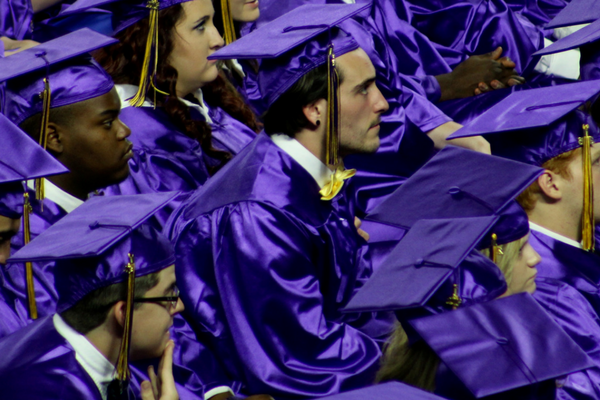 Your graduation is a day I have envisioned for years. On the first day of each school year that represented a milestone, I cried. My tears were in anticipation of your graduation day. I cried the day I first dropped you off at daycare. Oh how it broke my heart to leave you in the care of another. And how I prayed for your protection. Your first day of preschool, I took a photo. I smiled and told you I loved you. But when I left you that day, I cried. Your first day of kindergarten, I think I may have sobbed. And with every milestone that comes throughout elementary school, middle school, high school, there remained a lump in my throat. I have always anticipated graduation day.
Funny thing, my beautiful son, I think I cried more your first day of senior year than any time before. I watched you walk away from the car and a million memories flooded my mind. The day you were born. Your first tooth. Your first tantrum. Your first girlfriend. But on your first day of senior year, you were no longer the child I use to snuggle tight with promises that everything will alright. Senior year, you entered your school no longer a boy, but a young man. I cried.
The countdown had begun. And today, graduation day is upon us. A mother's tears are complicated, son. Those tears you see on monumental days aren't so much sorrow as they are excitement, anticipation, and the purest love any human can ever know.
Today, son, I want to give you a few gifts, in honor of your graduation.
I give you the gift of freedom.
Today, you are free to be your unique self, to explore, to learn more, to make mistakes, to fail. I promise to cheer for you as you learn and grow, always. You are free to fall and to rise. To love deeply. To make your own choices. And every single step of the way, you can know that I will always support and love you. I will be here for you. Always son. Always. And with this freedom, no matter what you do, where you go, who you love: You will always have a place of belonging in my heart. In my home. You are always welcome home.
You are my priority, whether by phone or in person. I am here for you. always.
Unconditional love without limits.
There will be no strings attached. There is nothing you could possibly do that could separate my love from you. I am your biggest fan. Your greatest cheerleader. You will never disappoint me.
I believe in you. I always have, I always will.
You are my greatest gift. And tho you see me cry today, rest assured the tears are full of life, joy, memories. Most of all, my tears are anticipation of the journey that is ahead for you. Your life has a purpose. You will do beautiful things.
I love you son, don't ever forget this.
Happy graduation, son.
Your biggest fan,