Halloween is coming up fast and we are counting down the days until we can mama tax our kids candy and take some for ourselves. Who's with us?!?!
As a mom whose favorite holiday is Halloween, here are some pro tips to keep your kids safe and your sanity intact.
Choosing The Right Costume

There are some cute costumes out there but remember that simple beats cute!
Always have a backup costume. Stuff happens and having a backup is critical.
Under the age of reason, complicated costumes have a 2-hour time limit for most children. PLAN FOR THIS!
PJ Costumes are highly underrated. If they want to be a skeleton or mummy, buy the PJ's, add some face paint and off you go.
Plan on wearing the costume or costumes multiple times before the big night. This gives you and the kiddo time to commit.
In the event your kiddo's costume is just not loved, offer it up to friends or family. My Buy Nothing Group has a 'Bootique' last weekend before Halloween where everyone does a mass purge of the dress up closet and can swap to their kiddos hearts content.
After Halloween is the best time to scoop up fantastic costumes at a fraction of the cost! So pay attention to whatever costumes your child exclaims oh WOW, I WANT! You can always trade/sell it, just remember to keep it in the package.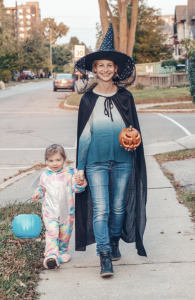 Making The Most of The Night
Have a mode of transportation other than the car to get from street to street. We use a wagon and it's perfect for storing bags and candy, as well as helping your toddlers legs rest.
Always have a change of clothes for after trick or treating. I use the kiddo's PJs for this. We always change out of our costumes at the end of the night, making your bedtime routine is easier when you get home.
Safety First!
Take pictures of your kiddo all kitted up complete with their trick or treat container in daylight and night before the day. This is for safety, if you lose your child you can show people what he or she actually looks like in their costume.
Always have flashlights and attach them to your child. One flashlight per child and adult. Again, safety but it will help kiddos navigate those cobblestone paths as well as immediately becoming the Monster Bash Beam to alleviate fears.
Will you be trick-or-treating with young children this year?
What tips have helped you in the past?
---
About Our Guest Author
Kim is a mother to 3 (ages 19, 5, and 2). She was born in Texas but has settled into San Diego for almost 10 years now. Her husband David works as a QA for a smaller company here in San Diego, and they have a lovely Siamese kitty that is now almost 15 years old. However, he will happily fool you into thinking he is a LOT younger than he is.