For when you're home with no car or sick kids, or just home hiding from the world, same-day grocery delivery in San Diego County is HERE!!!!!
We have a couple of options for grocery delivery, some which may or may not be available to you based on where you live. It still is hit or miss area-wise, but they have certainly come along way.
And, things are changing in this space seemingly weekly. So if things have changed by the time you read this or you know of something new, please note it in the comment section at the end of this post!
Below, I have listed the same-day options in San Diego, things you want to know before jumping right in, and then a couple of other convenient, but not necessarily same-day options.
Before You begin
So you don't have any surprises, these are the things you will want to know in advance of placing your order:
Item Prices may not be the Same – some stores/delivery services charge the same prices for items delivered, some include a small increase in the price of the item, and some include a MUCH BIGGER increase. So, know your prices before you shop or be prepared to pay more, sometimes alot more, than in the store.
There Might be Add-on Charges – some stores/delivery services charge additional fees or add on 'adjustments', so that the total you see at checkout may not be the total that appears on your bill. For instance, if you request fruit or meat and it is not a fixed price, the price offered on the website is the best approximation of what it might cost. The adjustment is made after the items are purchased, either up or down.
There Might be Substitutions – if an item is unavailable and there is a close substitution, the shopper may make that choice on your behalf.
Notes to Shoppers – some stores/delivery services allow you to add a note to the shopper. So, if you don't want a substitution for an item, like your littles will ONLY use a certain kind of ketchup, you can specify in a note to leave it off the order if is not found in the store. Or, if you are purchasing meat, you can specify to not exceed the price displayed on the website. Maybe you only want 4 apples and not really 1 lb. of apples (like how many apples in a pound anyways? lol), you can add that in a note.
There may be a Minimum Purchase or Minimum Charge for Delivery – Yep, might not make sense for the quart of ice cream you need right now cause your littles have just finished the crayon mural on their bedroom wall.
Delivery Charges can Vary – Is there a flat-rate charge? Is it based on the total of item purchases? Can you include a tip in your order? Can you tip upon delivery?
Delivery Times can Vary – Some offer delivery in as little as an HOUR! WOW! Or, you can specify a time slot when you know you will be home to receive the order, like after school pickup or work.
An Adult may be Required to Receive the Order – Some stores/delivery services require that an adult be home to receive the order.
Return Policy and Refund Policy – Know whether you can do returns in the store the items were purchased or if you must go through the store website or delivery service.
Registration and Membership – Some stores/delivery services require you to be a member (like Costco and Amazon Prime) and some require you to register with an email or social media account just to see what is offered (instacart).
Delivery to your Area may not be Available YET – Delivery is determined by your zipcode. For instance, I can get delivery at my mom's house near the coast, but not at my own… cause I kinda live in the 'boonies' of San Diego County.
Same-Day Grocery Delivery
Offered on Costco website and delivered by instacart. Requires Costco membership.
Offered on Vons website and delivered by Vons.
Sprouts, Bristol Farms, Whole Foods and Amazon
Offered by Amazon through AMAZON PRIME NOW (app or online) and delivered by Amazon. Requires Amazon Prime membership.
Offered by Amazon and delivered by Amazon.
Offered by Instacart and delivered by Instacart.
You will need to choose your city to see which stores are offered. Here is what is offered in the area I tend shop for grocery delivery…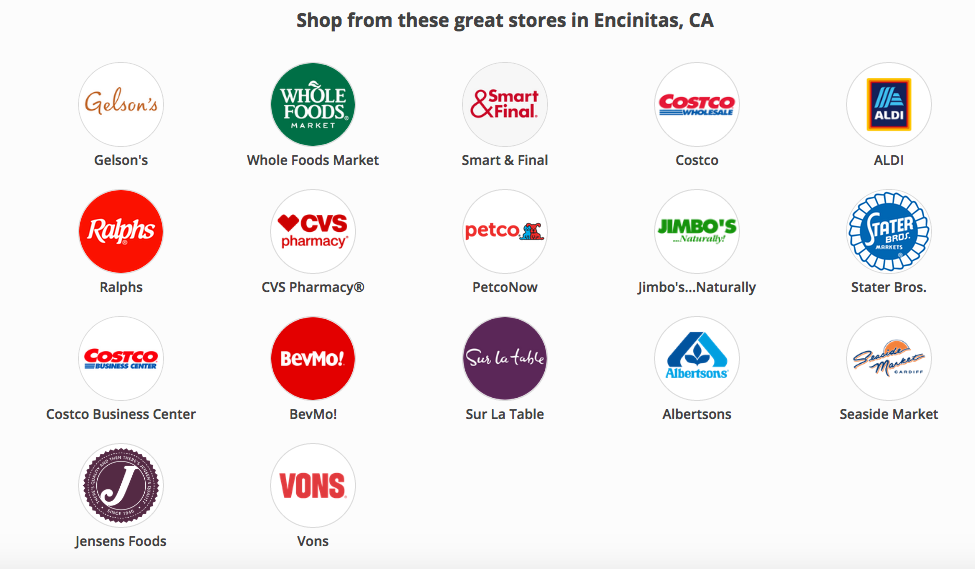 Note of caution: One San Diego Mom blogger reported that she paid about $75 more on a large order made through Instacart. Just know going in that you will be paying more through Instacart for your items, sometimes way more. And, Instacart has some sneaky ways of adding on expenses, so pay attention! But, if you need it and you need it now, it may be worth the money…. or it may not be.
Same-day Store Pickup
Same-day pickup of fresh food is not available at Target stores in San Diego at the time of this writing. Same-day grocery delivery may be offered through SHIPT (like Instacart) in the near future, however.
Fresh food offered for same-day pickup only.
Weekly Delivery of Fresh Fruits and Vegetables
Organic fruits and vegetables and other farm stand items.
Local organic fruits and vegetables and other farm stand items. Not same day, but probably more fresh than other same-day grocery delivery from other sources….
---
So many choices for grocery delivery in San Diego county!!!!
Share in the comments your experiences or other 'go to' places to keep your busy life in check!
Happy shopping!
Originally Published: May 4, 2018