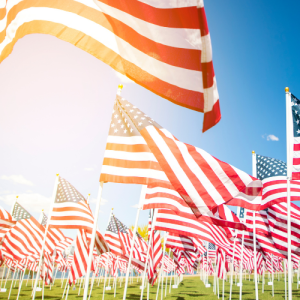 Memorial Day is just around the corner, so whether you are hosting a celebration or gathering with friends and family at the beach or a park, take a moment to honor and reflect on why you are able to do so! Memorial Day is celebrated to memorialize the veterans who made the
ultimate sacrifice
for their country.
Because of the three-day weekend, the perfect San Diego weather, and add in the end of the school year fast approaching for our kids, many families take advantage of the holiday to ring in the summer with a celebration!
So, if you are planning to kick-off your summer with a family BBQ or gathering, head to Smart & Final and all you will see is Stars, Stripes and Savings!
Smart & Final has you covered with all your BBQ essentials!
Moms everywhere are choosing the First Street brand at Smart & Final. With a wide variety of products reaching across most categories throughout the store, you'll know that whatever product you choose, you'll get the best quality at a great price, every day.
First Street brand party supplies, condiments, breads, and buns and french fries are on the top of our shopping list!
Find the nearest Smart & Final location to you here, then follow these steps to start clipping the savings:
2. Sign up
and register to
get access to exclusive savings and receive 15% off your first trip.
3. Clip coupons!
4. Scan barcode at checkout.
5. Save!
Don't worry, there are no changes to Smart & Final's everyday low pricing or weekly promotions. Smart & Final Digital Coupons are just an additional way customers can save!
What are some of your go to Memorial Day BBQ recipes?!?