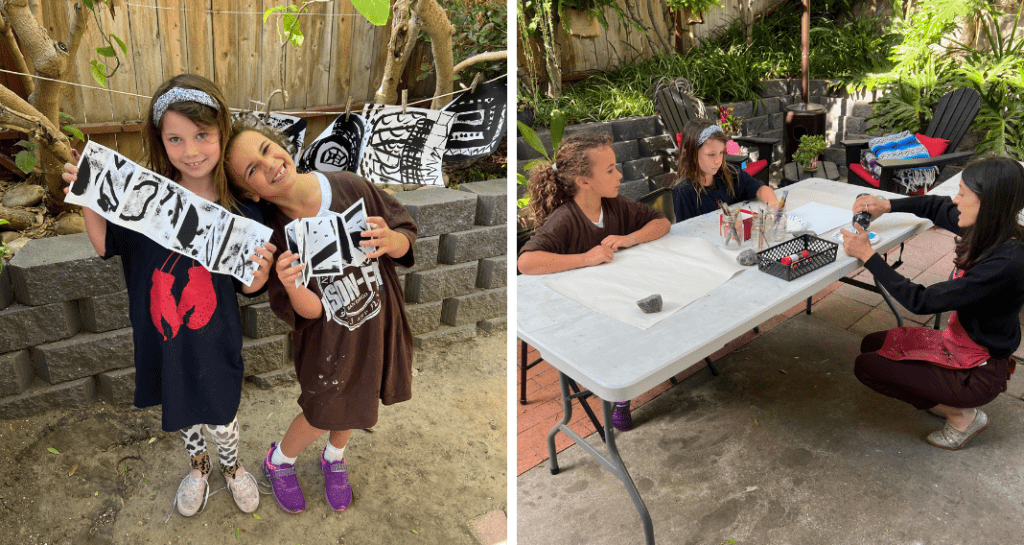 A few weeks back my daughter Kaia and her friend Ellamae had the opportunity to be a part of Paint it, Chop it, Make it* workshop at The Studio Space (this is also a Summer Camp theme in week 3!).
To be able to be a fly on the wall during that experience was such an incredibly unique and inspiring experience. Both girls were begging me to sign them up for camp after.
Art plays such an important role in life in general and for children, navigating different creative processes can be extremely healing and therapeutic. Owner of The Studio Space, Niki Bramante, believes in the healing powers of art and uses that as the foundation for all her classes, camps and workshops!
Not only will your child learn new art skills, but through the creative process, they will learn to communicate about their art in ways that will cultivate courage and build confidence.
Each part of their time spent at The Studio Space is very intentional, which is very refreshing and exciting to see first-hand.
Trust me, this is not your average art camp!
---
The Studio Space Summer Camps
The Studio Space offers weeklong summer camps from 9am-12pm, M-F, during the month of July for kids ages 7-12. Each week focuses on a different theme, material, or process.
Here are the available camp themes + dates:
More about Summer Camp:
Classes are capped at 8 which allows for individual, one-on-one attention.
Students will complete 4 in-depth projects, with the last day devoted to putting final touches on work that needs it
On the last day they host an art show where they can share their hard work with families!
Open-studio time after collaborative warm ups, discussion, and demonstrations means students work at their own pace and each create their own personally meaningful, unique works of art.
Classes are held outdoors in Niki Bramante's home garden-studio in Mission Hills.
Niki's goal with both her classes and camps is that each student will develop a strong sense of self and learn to trust their intuition and creative instincts.
Trust me you won't regret signing up for this Summer Camp, but space is limited to REGISTER TODAY.
Niki Bramante, Owner of The Studio Space

"They (children) are natural artists. Many adult artists spend their lifetimes trying to channel their inner child in the studio. So whether we are teachers or parents, we must set up safe places for children to be creative so that we nurture, instead of squash, this behavior. Part of setting up a safe, creative space that encourages children's natural creative tendencies is letting them know that we are there if they need us or if they get stuck. But we have to be careful about what kind of help and advice we give." Niki Bramante, Owner of The Studio Space.