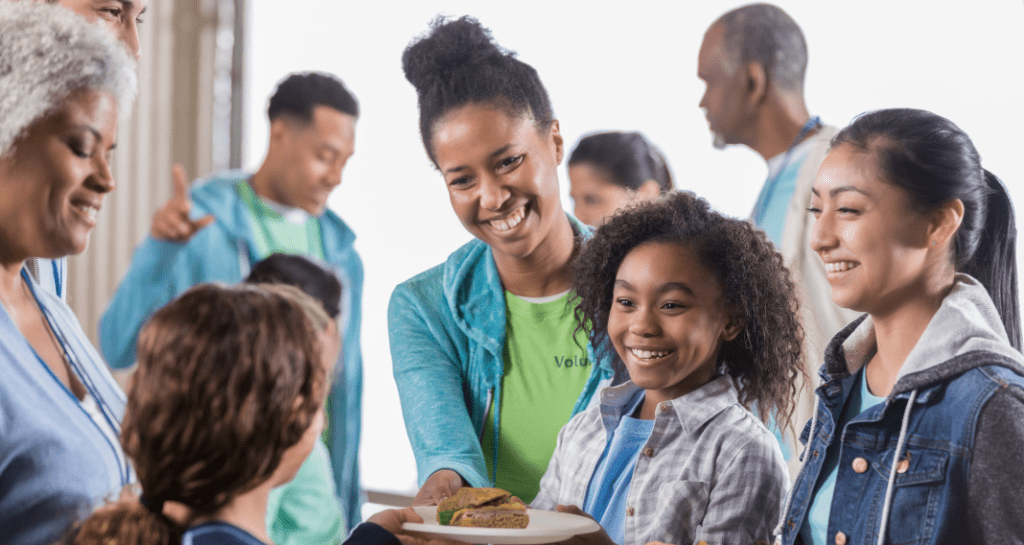 MLK Day is just around the corner! The only federal holiday designated as a National Day of Service to encourage all Americans to volunteer to improve their communities.
"Kids learn so much more from what you do, than what you say" ~ Brené Brown
Honor Dr. King's legacy and volunteer as a family this year. Community Service is a powerful tool that builds stronger communities and even stronger generations, and we need it now more than ever!
We've highlighted a few HandsOn San Diego volunteer opportunities below! But first, there are a few celebrations:
January 15th from 2-5pm: This is one of the largest celebrations of its kind in the United States in honor of Dr. Martin Luther King Jr.. The parade is filled with dazzling floats, phenomenal High School Bands, Drill Teams, Colleges / Universities, Fraternities, Sororities, Churches, Peace and Youth organizations.
Location: 1355 N Harbor Dr San Diego, CA
January 16th 1-6pm at the WorldBeat Center highlights include live music, multicultural performances, African dance, Native American blessing and Aztek Dance, headliner Pato Banton and guest speakers along with vegan food and an outdoor cultural arts and craft vendors marketplace.
Location: 2100 Park Blvd. in Balboa Park
This remarkable event brings people of different faiths and cultural backgrounds together for a wonderful morning of hands-on community service, fun and fellowship. Families are encouraged to participate together on this day of community-work, suitable for all ages. NO PETS ALLOWED.
WHERE TO MEET AND PARKING: Meet in Balboa Park Redwood Circle, located on Balboa Dr., just north of El Prado. Parking available on Balboa Dr. and Sixth Avenue.
WHAT TO BRING: Water, work-gloves, pruning tools (if possible). Tools will also be provided. WHAT TO WEAR: Long-sleeved shirt, long pants, closed-toe work shoes
MARA Rescue is a volunteer-powered organization that rescues a variety of farm animals such as horses, goats, and chickens that have been neglected and/or mistreated.
They need volunteers to help with daily ranch chores and animal care so they can continue to care for the animals that live at their rescue sanctuary. Volunteers may help with: cleaning/mucking (removing manure) corrals, cleaning and refilling animals' waters, feeding animals, raking, light construction, and other related tasks.
Age Minimum (with Adult): 15+, Minimum Age:18+, Court Ordered Volunteer – Allowed. Physical Requirements: Volunteers should be able to lift or wheelbarrow up to 25 pounds at a time. If volunteers have physical limitations, other tasks may be available. This location is not wheelchair accessible.
Ensure that food insecure families and individuals can receive healthy nutritious foods to eat by volunteering at Crossroads Outreach Foundation's food distribution.
Volunteers help with unloading banana boxes of food from a van and loading them into a refrigerated box truck, sorting foods so all like foods (i.e. produce, salads, eggs, etc.) are in the same stack of boxes, and removing any unusable foods from the boxes. Volunteers also may be asked to take trash bags to the dumpster, stack the crates, and sweep if necessary to help tidy the space. This project takes place on a limited timeframe prior to distribution so volunteers will be expected to move quickly.
Age Minimum (with Adult): 16+

,

Minimum Age:18+
Help distribute food and water to about 75 unsheltered homeless individuals in downtown San Diego. Volunteers will engage directly with unsheltered neighbors by walking the nearby streets and handing out food and water.
Age Minimum (with Adult): 13+

,

Minimum Age:16+

,

Court Ordered Volunteer – Allowed
Join the San Diego River Park Foundation in making a resolution to get outside while making a difference for the San Diego River! Various opportunities and age level requirements for volunteers needed throughout January. CLICK HERE for more info.
MLK Day of Service for hunger relief: Healthy Day Partners is looking for volunteers from 2:30 to 4:30 p.m. Jan. 17, 24 and 31 (and other times) to package Grab & Grow Gardens as part of garden kits distributed through hunger relief agencies to help low-income, food insecure, and those hit hardest by the pandemic learn how to grow their own healthy food.
Saturday, 14 January, 2023 9:00 – 11:30am
Join District 1 Council Member Consuelo Martinez and the City of Escondido for a day of service in honor of Dr. Martin Luther King Jr.. Volunteers will work together to remove litter and green waste from Washington Park and 2 miles of our community bike trail. Our park and creek trail are accessed by community members of all ages to enjoy riding bikes, jogging, walking, skateboarding, and giving access to many of the city's parks and amenities.
They will provide all supplies needed for the clean-up. Location: Washington Park: 501 N Rose St, Escondido, California, 92027
They are asking for help organizing donation drives for items that we are in need of. These include hygiene items (shampoo, soap, toothpaste, toothbrushes, deodorant, etc…), pillows, pillowcases, twin sheets, undergarments, socks, shoes, blankets and bottled water.
If you would like to organize a donation drive for Alpha Project, please contact MJ Paullus at (619) 542-1877 or [email protected].
For all event information go to HandsOn San Diego for more details.
Ways to participate Independently as a Family:
Attend a special event, parade or celebration with your family. This is a great opportunity to teach your children about Dr. King and what the holiday is all about!

Honor Dr. King's legacy all year. Use King Day to find an organization you're passionate about and make a commitment to serve with them year-round.

Organize your family and friends to engage to do your own service project—safely. Clean up a nearby park, deliver care packages to your neighbors host a donation drive and ask friends and family to donate.

Make a monetary donation to a local organization in need or host a lemonade stand in your neighborhood and donate the monies raised.
Other Non-Profits + Organizations We Love + Opportunities
Children's Nature Retreat: A sanctuary where animals teach and people learn, a special "retreat" in the world of nature. The Retreat gladly accept volunteers. Minimum age required is 15 years old. Volunteer duties may include, cleaning stalls, grounds maintenance, guests relations or helping to promote the Retreat.
St Paul's Pace: St. Paul's PACE is specifically designed for seniors 55 years and older who have chronic medical conditions and are struggling to live at home independently. Spread some sunshine:
Send a card (store-bought or handmade) with a message of encouragement
Share an inspirational message or story in a letter
Donate large print puzzle books (Crossword, Sudoku, etc.)
Feeding San Diego: Help relieve hunger by sorting + packing produce for families in need, support a local distribution site, call donors, and more.
Words Alive!: Read to kids + teens, deliver books, or prepare crafts for families as you inspire a love of reading for underserved locals.
Traveling Stories: Read virtually to kids in grades 1-3 and mentor them to build literacy skills.
I Love a Clean San Diego: Join monthly cleanup events + help keep San Diego beautiful via this organization that's been around since 1954.
San Diego Coastkeeper: Participate in a beach or neighborhood cleanup + help remove trash before it floats into our coastal waters. Your efforts will protect and restore fishable, swimmable and drinkable waters in San Diego County.
Surfrider Foundation of San Diego County: Take part in beach cleanups, help advocate for eco-friendly Surfrider policies, monitor beach pre
Father Joe's Villages: Volunteers can utilize their talents in a variety of programs including preparing and serving meals, tutoring kids, doing maintenance/beautification projects and much, much more. They accept all types of volunteers and volunteer groups: individuals, families, children over 10 years old, religious organizations, community groups, military groups, corporations, local businesses and more.
Mama's Kitchen: Deliver meals along a specific route to San Diegans at risk of malnutrition due to critical illnesses, help plate dishes, or assemble grocery bags. Ages 13+ and ask that they be accompanied by a parent or guardian. (16+ up does not need a guardian).
Be sure to share your thoughts and photos from your volunteer service that day by posting @MLKDayOn and #MLKDay and tag HandsOn San Diego & San Diego Moms.
HandsOn San Diego's mission is to strengthen communities through volunteer action. They believe that when individuals are actively engaged, communities are stronger.