In celebration of a month of giving thanks and a season of showing kindness to others, my family enjoyed creating pasta dishes to celebrate Smart & Final's Pastathon.
This year marks the 10th Annual KFI Pastathon. The Pastathon is about providing meals to kids in need. While the event is not held in person, they are committing to support Caterina's Club. Caterina's Club has served over 5 million warm meals to date to homeless youth and low-income families in Southern California.
Now through December 4th, Smart & Final shoppers are invited to donate $10 which will provide 14 meals.
Let's Celebrate Pastathon with Recipes
To celebrate this amazing cause, my son and I shopped at Smart & Final and are sharing two delicious pasta recipes that use their Sun Harvest Organic and First Street brands. Both of their brands offer amazing quality at reasonable pricing. I was not familiar with how many products and categories were available, and I was pleasantly surprised. Sun Harvest products are certified organic and made without the use of harmful chemicals.
We made two delicious pasta meals that are very different in ingredients, but both equally delicious. As a busy mom, I also appreciate that both of these meals are very easy to make and do not take a lot of time. Perfect for a busy night.
One-Pot Chicken Parmesan Pasta
Ingredients: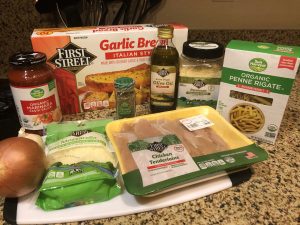 2-3 First Street boneless, skinless chicken breasts, diced into pieces
1 tsp First Street Italian Seasoning
1/2 tsp garlic powder
1 medium yellow onion, minced
2 cloves of garlic, minced
16 oz Sun Harvest dried rigatoni pasta
24 oz jar of Sun Harvest marinara sauce
Water to fill empty sauce jar
1 cup First Street mozzarella cheese
1/2 cup First Street parmesan cheese
Salt and pepper to taste
Directions:
Add to a large pot or skillet, a drizzle of olive oil, and heat over medium-high heat. Add chicken, season with salt, pepper, Italian seasoning, and garlic powder. Cook 5-8 minutes until chicken is most of the way cooked through. Remove to a plate.
Add onion and garlic to the pot and cook for about 2-3 minutes, until soft. Pour in marinara sauce, fill the empty jar with water, and add to the pot. Bring to a boil, then reduce to a strong simmer.
Add chicken and pasta, stir, then cover and cook 10-15 minutes, until pasta is cooked to your liking. Stir in parmesan cheese and 1/4 cup of the mozzarella cheese.
Sprinkle the remaining 3/4 cup mozzarella cheese on top of the dish and cook another until cheese is melted. Serve immediately.
Pomodoro Pasta with Pesto
Ingredients: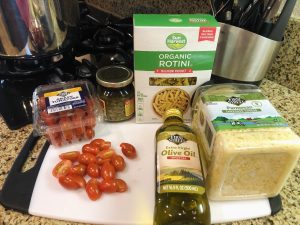 12 oz. Sun Harvest grape tomatoes, halved
1/2 lb. Sun Harvest dry rotini pasta
1 tbsp. First Street Extra Virgin Olive Oil
4 cloves garlic, chopped
1/4 cup Basil Pesto
1/3 cup First Street Parmesan Cheese
Directions:
Stir pasta into a large pot of rapidly boiling water. Cook according to package directions.
Heat oil in a nonstick saute pan over medium-high heat. Add garlic and tomatoes, and cook for about 3 minutes or until garlic is tender and tomatoes are warm. Season with salt.
When pasta is done, drain, and place in a large bowl. Toss well with sautéed tomato mixture, pesto, and cheese.
Serve immediately.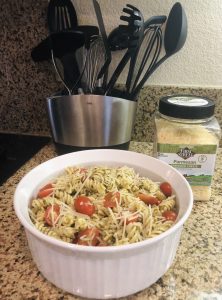 Celebrate Giving
Shopping and cooking the meals were a great way to chat about the importance of doing what you can to help others. It also is a great reminder of being grateful for what you have, which includes not having to worry about food.
If you are able to do so, donate by December 4th at your local Smart & Final. Please help provide warm meals to children who truly are in need.
Learn more about making Smart & Final your one-stop shop for the holidays!