Family fun at playgrounds and parks in downtown San Diego!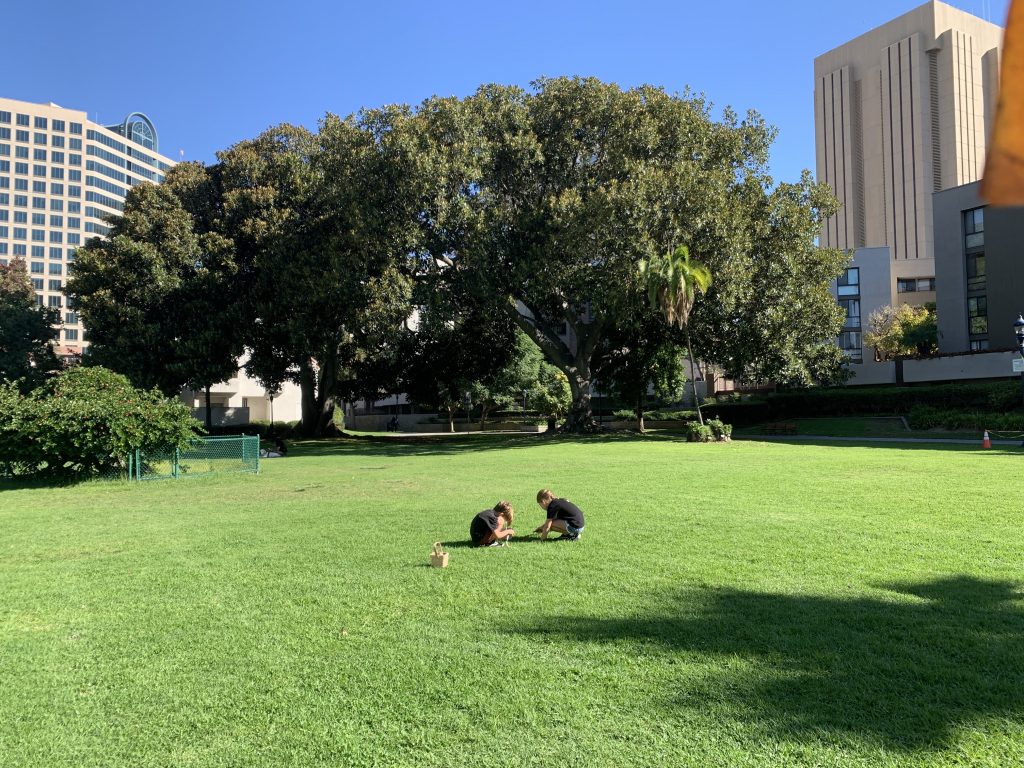 Exploring parks, playgrounds, and public spaces is a great way to get to know a city. Visit these playgrounds and parks in downtown San Diego for free family fun!
In the Little Italy, Gaslamp, and East Village neighborhoods of downtown San Diego, there are some great parks. The best part: most of these spots are easily accessed by public transit! In this article, "park" means an open space good for rest or recreation, and "playground" means a public space with play structures or other installations for children to play on. (Unless otherwise noted in each description, assume no public bathroom facilities are available.)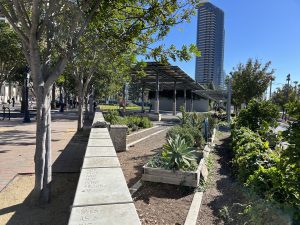 (green line trolley stop Convention Center)

Located directly across Island Ave. from the New Children's Museum is a tiny playground, grassy space, and small garden. BYO chalk to write on the sidewalk and art wall! The New Children's Museum uses this park for outdoor exhibits that are often open to the public.
An additional climbing structure and sand area are inside a fence that is often locked and inaccessible, but you may get lucky.
Note: the "Children's Park," located east across Front St. from this playground, is currently under renovations.
(green line trolley stop Seaport Village)
Just south of Seaport Village on Kettner Blvd. is Embarcadero Marina Park North, a grassy,tree-dotted peninsula with panoramic views of San Diego Bay and the Coronado Bridge. This public space boasts bike paths, picnic tables, public restrooms, open lawns, and picturesque coral and eucalyptus trees.
Across the marina, Embarcadero Marina Park South features fitness stations, bike paths, basketball courts, concessions, public restrooms, and the eye-catching Rady Shell event venue.
(blue or orange trolley stop Park and Market)
With two play structures for kids of different ages, swings, sand play area, succulent garden, sculptures, and large grassy space, Fault Line Park is a fun spot for families. It's located on 14th St. between J St. and Island Ave. in the East Village neighborhood of San Diego, and on-street parking is available.
You may see some homeless neighbors camped in the area. Public restrooms are located outside the restaurant at the corner of 14th St. and Island Ave., but they're not always unlocked.
(green line trolley stop Center City/Little Italy)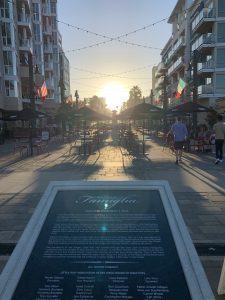 The Little Italy neighborhood of San Diego features several piazzas with seating and space to rest or socialize. Piazza dela Famiglia, on Date St. between India St. and Columbia St., is the largest and busiest of these. Two blocks to the east, on Date St. between State St. and Union St., is Amici Park. Part piazza, part activity center, Amici Park is adjacent to Washington Elementary School and sees a lot of action during the Little Italy Mercato Farmers Market (check out our review!).
BYO balls to play bocce on the built-in courts at Amici Park, or swing by with your pup to take advantage of the Little Italy dog park. On Saturday evenings in the summer you can catch an Italian film in the outdoor amphitheater, hosted by the Little Italy Association.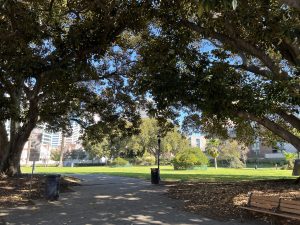 (green line trolley stop Seaport Village)
Tucked along G St. between Kettner Blvd. and State St., Pantoja Park is a true urban oasis. Mature fig trees drop their fruit and push up their prominent roots for kids to explore.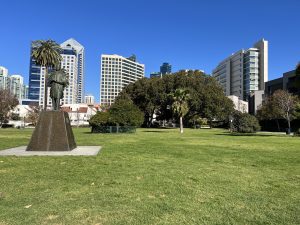 There's no playground equipment here, but a large grassy space is equally welcome to neighbors walking dogs, pop-up yoga classes, sunbathers, and radio-controlled helicopter pilots.
This is a great place to try out your new balsa wood planes, play catch, or do some cloud-watching. Metered parking is located on G St.
(green line trolley stop Seaport Village)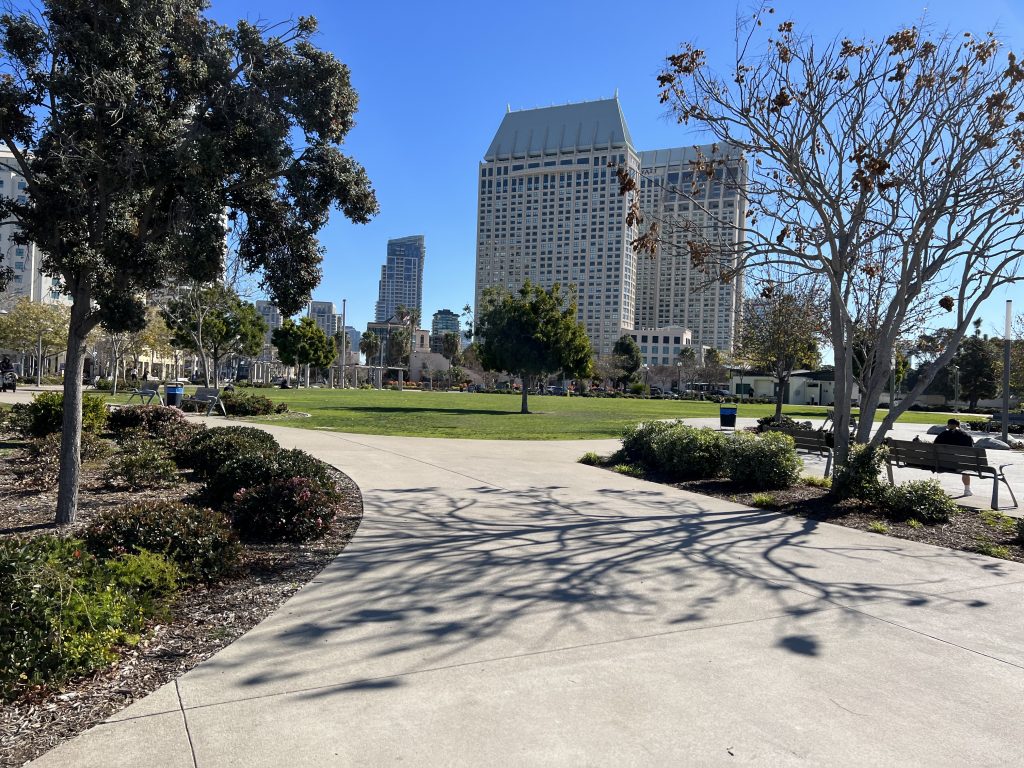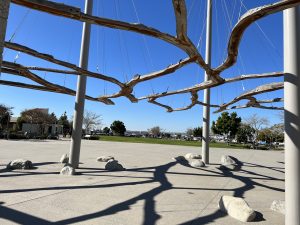 Adjacent to Seaport Village and tucked between Harbor Dr. and the Embarcadero is Ruocco Park, a green space and picnic area with benches and public restrooms. Play catch, ride bikes, or just enjoy the views of fishing boats and tourists. Check the grass for dog droppings before running around, and keep in mind homeless neighbors also use the public restrooms. Park in metered spaces on Harbor Dr. or at the Kettner Blvd. entrance to Seaport Village.
(green line trolley stop Gaslamp Quarter)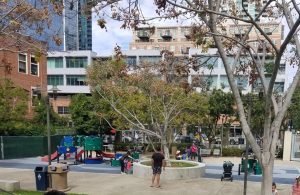 The home of the San Diego Padres major league baseball team, Petco Park has something for everyone. On most non-game days, Gallagher Square (aka "Park at the Park") at Petco Park is open to the public. Located inside a gate on the south side of J St. between 8th Ave. and 9th Ave., the Tot Lot is a fun place for families of toddlers and preschoolers to play and explore. Shade trees surround a small play structure, and a large grassy area is open for picnicking. There's even a mini infield diamond your kids can use to practice their baseball skills!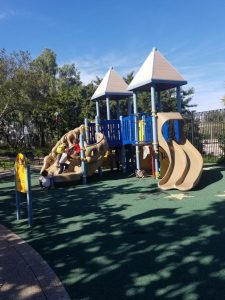 Nestled above the I-5 freeway in the quiet Cortez Hill neighborhood of downtown San Diego, Tweet Street Park is a hidden gem for parents of small children. The shaded walkways along Date St. between 7th Ave. and 9th Ave. are lined with well-maintained plant beds and colorful birdhouses that attract local birds. A small playground is perfect for kids under age 5.
(green line trolley stop County Center/Little Italy)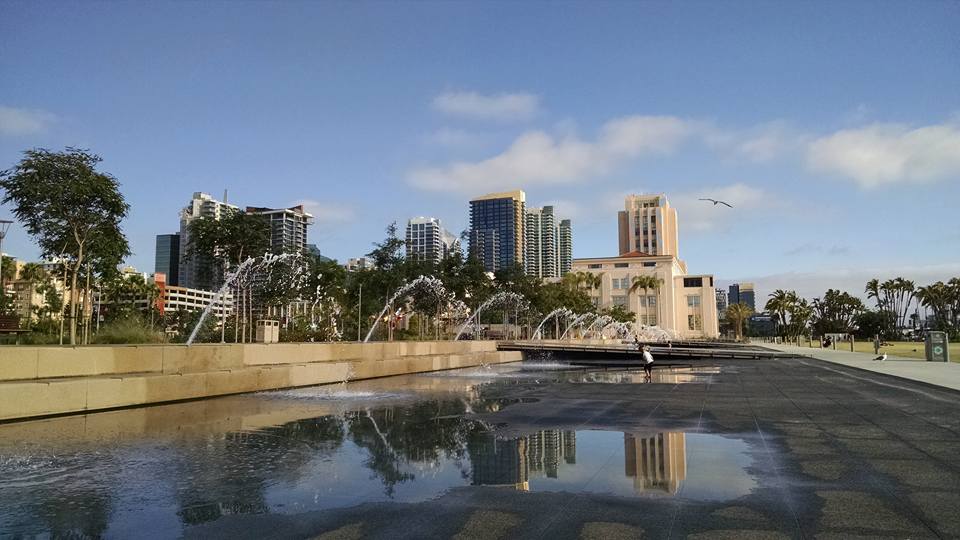 Surrounding the San Diego County Administration Center across from the Embarcadero between Harbor Dr. and Pacific Hwy., the Waterfront Park is the backyard of many downtown families. This sprawling urban park features playgrounds, water features, concessions, and picnic areas.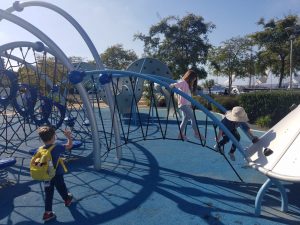 On the south side of the building is a large playground for school-age kids, including two large sliding boards (caution: hot in the summer!), swings, see-saw, climbing structures and modern merry-go-rounds. A concession stand and restrooms are available next to the playground.
Wide lawn lines the park along Harbor Dr. between Ash St. and Grape St., and splash pools and fountains (beginning daily at 11 a.m.) are extra fun on warm days.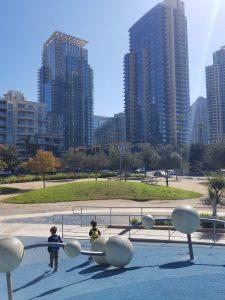 On the north side of the Administration Center, native plants and sculpture gardens offer winding pathways and benches for more passive recreation. A renovation project is currently planned for this area. Restrooms are also located on this side of the park.
Metered parking is available along Harbor Dr., and an underground parking garage on Ash St. between Harbor Dr. and Pacific Hwy. is open to the public on weekends and after 5 p.m. on weekdays.
(green line trolley stop Convention Center)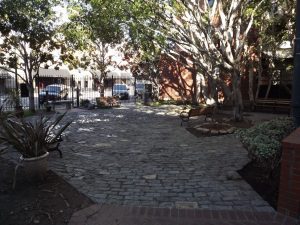 A shaded, welcoming courtyard, this pocket park is part of the property of the Gaslamp Museum (William Heath Davis House) at the northeast corner of 4th Ave. and Island Ave. in the Gaslamp neighborhood of San Diego. Enjoy a few quiet moments resting under the magnolia trees inside the picturesque wrought-iron gates.
In a city like San Diego, you can spend nearly every day outside! If you're looking for free family fun in downtown San Diego, check out one of these great public spaces.