"I'm not ready for the world yet today, mama…"
This is what our nearly six-year-old said to me this morning as she sleepily climbed from her space on the bed to where I was sitting, trying to rouse her from sleep to head off to camp for the day. She nestled in close to me and I caught myself before launching into the "we gotta go" mantra.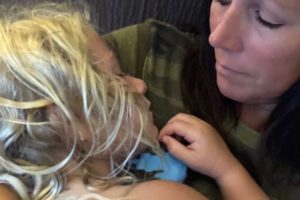 We weren't yet running late, I had time to ease her into the morning. I let her cuddle and hug in a little closer and close her eyes and I just occasionally broke the silence with some gentle nudges of morning chatter, and Friday excitement, and what a fun week you've had.
She wasn't ready for the world. Instead of pushing her into it in the moment, I took the time to remember that I wanted to send her off into the world with a calm morning.
I thought this moment was the perfect reminder for all of us parents as we ease our children – and ourselves – into a new school year. No matter what summer has looked like, it likely looked different, and felt different – for the children as well as the adults – than the days during the school year. Transitions are challenging, for some of us more than others, and it doesn't matter if we are young or old, when we change up our schedules, that has an impact on a whole lot of our life.
So, whether your children – or you – are able to articulate whether they are "ready for the world" in these first mornings going back to school, take a few minutes to understand they may not be and consider these three suggestions to help ease you, the children, and the family back into the routine of the school year.
1. Talk it out.
While heading back to school can be, and often is, an exciting time, it can also be one that children of any age – and adults – worry about. New routines, new teachers, new classes, and for some, new schools can produce some anxiety. Ask your children what they are excited about and also ask them about anything they might be worried, wondering, or nervous about. Be prepared to really listen and then, help them problem solve or think through those worries. Share with them your excitement and worries too, so they understand that these feelings are normal and natural. In the end, while you want to validate any of your child's worries, you can focus on the positives, helping them see that the things they are excited about can help ease some of those worries as well.
2. Start routines early.
This can be difficult if you have taken a late summer vacation or even if summer didn't look totally different than the school year. But, getting those routines back in order is still essential! Bedtime likely is earlier now. Mealtime might be more regulated. Even starting the bedtime routines a bit earlier than normal to help set the routine up is a good idea when we consider how much sleep children really need. Have children involved in the routines in this week or so before school starts up – have them set out clothes for the next day, make their bed each morning, plan what will be for lunch. Talk about what is on the agenda for the day and what the plan will be for the next day (sometimes this is good just before bed, or for dinner-time conversation). In these routine moments, remind children how this will translate to their routine once schools starts back up.
3. Connect with school.
Most schools now, even for the older kiddos, have some sort of orientation. Many are mandatory, but not all are. Don't skip this. And, wherever possible, don't send the child alone — even as they get older. Make that time to connect with the school, and with your child in their school, an important part of the routine of heading back to school.
Touring the new school with your child and being able to talk with them about the physical space they will spend their day, exploring with them their new classroom, and all the spaces they will be in, helps foster the connection both you and your child have with their learning space. Meeting the teacher, and putting faces to names, gives everyone more comfort when, and if, they have to connect later for any reason.
For schools that do not offer official tours or meet-and-greets with the teacher, find out if you can tour the school with your child yourself and, if possible, find the schools website and/or a photo of the teacher someplace so your child can see who their teacher is before they enter the classroom.
Finding and building on routines that work for you and your family is the most important of all these steps. Back to school is a time of transition and one that impacts the entire family. Acknowledging this is as stressful a time for adults as it can be for children is OK! It is important to validate, plan for, and then work through the levels of stress this time can cause, ideally helping this time of transition be as smooth as possible for all.
For some ideas on back-to-school supplies, click here. These stuffed pancakes are a great school breakfast!
Photo by Element5 Digital on Unsplash