Looking for a family-friendly vacation that isn't super far away and won't break the bank? With summer vacation coming to an end, I wanted to make sure my daughter had some fun memories to look back on.
Howard Johnson Anaheim
(aka HOJO Anaheim) fit the bill! With its onsite water playground and Orange County location, HOJO Anaheim is a perfect family getaway.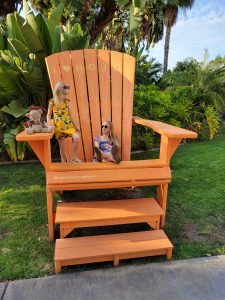 It's a 2-Hour Drive from San Diego
If you're lucky with traffic, it might even take you less than that. Howard Johnson Anaheim is conveniently located right off of Interstate 5 and is very, very close to Disneyland. As in, right across from Autopia. As in, you can view the fireworks right from the hotel (or from the Garden Pool while swimming as we did).
There are TWO Water Areas to Enjoy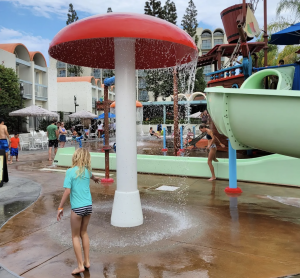 When looking for a SoCal family-friendly vacation, I specifically searched for a hotel featuring water slides. I saw pictures of this place and knew it was the one to take our 6-year-old to. She had never been on a water slide and I wanted a water park vibe on a smaller scale.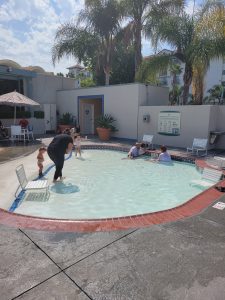 HOJO Anaheim's Castaway Cove is excellent for kids in ways that parents will appreciate. It has one larger water slide that adults can also use (I sure did!), two smaller ones, a 1-foot deep wading pool, a drench bucket, and other water play amenities. Additionally, there is a hot tub here for adult use as well as lounge chairs and tables to relax at. Castaway Cove is entirely enclosed and is just big enough to keep kids entertained for the 2-hour time block that you'll currently need to reserve in advance.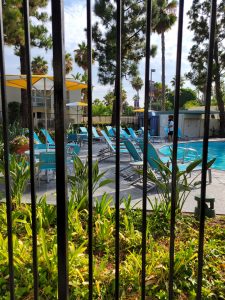 The
Garden Pool
is a larger pool situated in a quieter, courtyard setting. This pool is great for swimming and relaxing poolside in one of the many lounge chairs. My daughter had a blast here. Equally important, we adults appreciated that the deepest water was only 5-feet. Reservations for this pool were also needed. While we were only able to snag the 8:00 PM time slot, we loved seeing Disney's fireworks from the water.
Pro-tips for Your Trip
While there are no eateries or room service here, HOJO Anaheim does have its own Main Street Market. This was a super helpful feature of the hotel, despite the slightly elevated prices. You'll find an array of souvenirs (and your child may insist that you purchase at least one). There are also snacks, microwavable/easy meal items, and assorted drinks (including beer, wine, and seltzers).
The rooms have a mini-fridge, microwave, and a Keurig. Plan your meals accordingly! There are many eating options within a half-mile of the hotel, including a Mimi's Cafe right across the street.
Each room also has a patio or balcony. If you are on the upper level like we were, be aware that the rooms have higher windows that are not covered by curtains. So it gets bright in a "the sky's awake so I'm awake" sort of way. I brought an eye mask to combat this.
Once you book your room, I recommend immediately reserving your time in the pool areas. We were able to visit Castaway Cove prior to our check-in on the date of arrival as well as the morning of check-out by scheduling in advance. The reservations are currently in place to be sure the common areas are regularly cleaned and sanitized.
Your next family-friendly vacation awaits. Look here for our other Disneyland area hotel picks. What are you waiting for?