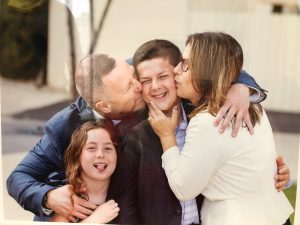 Betzy, we are so grateful you decided to share your story with us. Let's start with who you are both personally and professionally. Give us the 30-second elevator pitch that you would give when asked to introduce yourself.
I grew up in Youngstown, Ohio. My husband, Spencer, our 2 children, Renie and Cooper who are attending San Diego Jewish Academy, and I currently live in San Diego, California. I have a passion for baking and most importantly, for helping other women achieve their personal and professional goals.
What does "As Strong as the Mother Next to Me" mean to you?

"As Strong as the Mother Next to Me means using my voice and leadership platform to support women whose voices have yet to be heard. It means making sure women have the seat that THEY choose in the workplace and in their personal lives. It's about empowering women/moms in my life to be the best version of themselves and having their back on their journey to get to that place."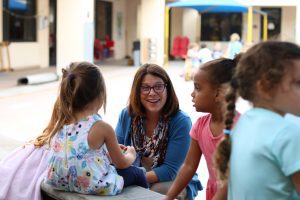 How important is it to you to surround yourself with other moms both professionally and personally? Creating a network of women who are working hard to find success in their professional careers as well as working equally hard if not harder to raise amazing humans has been critical in my own empowerment. Seeing other women achieve their very best motivates me to do the same and supporting them when they experience a misstep reminds me that failing forward is an incredible part of our growth as people.
The blessing of my career is that my family has been a part of my work since 2004. My husband has worked with me at all of the JCCs. Currently, he serves as the Associate Director of Fitness, Aquatics, and Sports. Both my children attended Early Childhood Education at the JCC, they both attend camp and exercise here regularly. This blessing can also be a challenge in that there is not really any separation between my work and my home life. But because I love my work and I can share it with my family, it keeps me rooted in this field.
What piece of advice would you give another mom who is struggling with balance work/home life? Or is thinking about starting her own business? I don't believe in work-life balance. As a mother, there will probably never be a moment when both sides of the scale are of equal importance. So if the goal is to balance, we will never find success. I like to think about this as a tire. When things are going smoothly in both work and at home, the ride will be smooth for a period of time. However, when your home life needs more attention or work becomes overwhelming the tire may get over-inflated in one area. The ride will be bumpier… you may even need to pull over for a minute but you can keep rolling. Any tips or tricks that have worked for you? What do you do to balance work/home life? Forget the idea of balance and shaming myself for not having. I establish priorities and boundaries and I stick to them. I only commit to the things that are most important to me personally and professionally.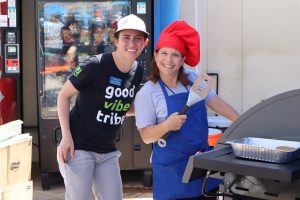 Tell us about a challenging time in your business and how you overcame it? In 2017, the LFJCC received a series of anti-Semitic bomb threats. This was scary and unnerving considering that we serve very young children, school-age children, children with disabilities, and seniors at our location. We had robust security measures in place but it was difficult to accept the JCCs around the country would still be experiencing this type of hatred. We overcame this difficult time with love and support from communities of other faiths and the broader community. We spoke openly within our community to build trust in our security measures and shared our brave aspirations to continue the business. We did not let hate win.
How did you build your community of moms around you and how have they impacted your life personally and professionally? I built my network based on who I needed in my life. I needed a woman to be my cheerleader, I needed a woman to be my honest critic, I needed a woman to be a quiet confidant and a woman to be my sage of wisdom. I set out those needs in my mind so when I have encountered these moms along my career path, I knew I would keep them all just a phone call or email away. This has served me well.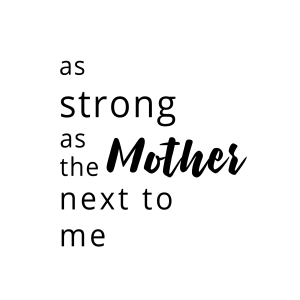 "As Strong as the Mother Next to Me" was built on the principle and belief that with the right community and sisterhood you can move mountains. Founder Niki Jones is a single mother and entrepreneur who understands that leaning on her circle doesn't make her weak; it makes her unstoppable.
Research supports that by doing good or paying it forward, in ways big or small, not only feels good, but also does us good.
MOTHERHOOD IS HARD ENOUGH. San Diego Moms wants to provide an experience and community that is inclusive, uplifting and supportive to ALL moms. By empowering and lifting each other up, we become better women, partners, leaders, and friends.
At this time I would like to ask you to nominate two moms, and we will only share their first name in the article, but also WHY you are nominating them.
"Romi is all about the empowerment of women. She gets you can have it all just not at the same time."
"Jenny is a modern day wonder woman. She is a thoughtful leader and incredible connector."