It is no surprise that more chocolate shows up in my house on Valentine's Day, as I am sure it does for many of you. It seems to be par for the course, especially now that I am a mom. Not just for me anymore — Dad brings home chocolates for our daughter as well. We are still working our way through Christmas — and Halloween — leftovers! So what to do with all that remaining deliciousness? Here are some uses for leftover Valentine's Day candy!
1. Chocolate Covered Strawberries
I always associate chocolate covered strawberries as an accompaniment to a nice glass of red wine or a fancy way to wrap up an extravagant dinner. I see them as a special purchase from the store for Valentine's Day, or as an unexpected delivery from Edible Arrangements. But this fine dessert doesn't have to be reserved for such an occasion nor does it require much effort to make at home! Check out an easy recipe here.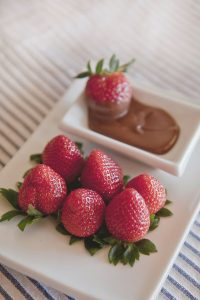 2. Chocolate Fondue
This is a fun recipe that incorporates a wide array of leftover chocolate candies, such as milk chocolate, caramels, even candy bars. Even with a more limited variety of chocolate, a fine fondue can be made with melted milk chocolate combined with marshmallow cream and heavy cream. Get your fruit ready!
3. Hot Chocolate
Next on the list of uses for leftover Valentine's Day candy is hot chocolate! Making hot chocolate from scratch is a fun activity to let the kids help with. A very easy method is to heat the milk first in a mug and then add chocolate pieces and stir them around. It's also fun to mix these ingredients in a small pot on the stove.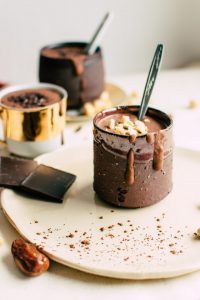 4. Trail Mix
My daughter is a fan of trail mix… if it has chocolate in it. Making our own trail mix at home is an easy snack to make together. We raid our cabinet for miscellaneous nuts, seeds, and dried fruit and then toss in small bits of chocolate for a pop of sweetness. Easy peasy!
5. Chocolate Drizzled Popcorn
A fun spin on popcorn movie nights is to incorporate chocolate into the bowl! This recipe walks us through the best types of leftover chocolate to melt into a delightful drizzle to toss onto this simple snack.
6. Cookies
The great thing about going the cookie route as one of the uses for leftover Valentine's Day candy is that there are so many options available here. Got Hershey Kisses? Try these Peanut Butter Blossom cookies. Chocolate bits from assorted candies can be tossed into a standard chocolate chip cookie recipe. This recipe covers random assorted chocolate candy that can be mixed into the dough.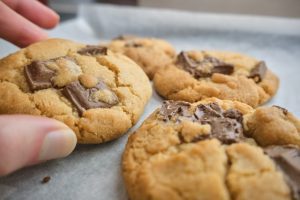 Looking for more things to make with leftover Valentine's Day chocolate? This Halloween post offers some insight into other ideas on how to repurpose holiday treats!