I have been getting into fresh juices as of late. As I try to stave off daytime mindless snacking urges, I have found fresh juice to be an easy, positive alternative to boost my energy and curb my hunger. When pressed for time, I opt for prepared cold-pressed juices from SUJA or Squeezed. However, a freshly made juice at home with customized ingredients of my choosing just can't beat. Here are 3 must-try fresh juice recipes to get you through the warm summer feeling energized and refreshed!
Easy Fresh Juice #1: Watermelon-Cucumber-Mint Juice
What's In It: a cup of diced watermelon, a cup of chopped cucumber (I peel mine first), juice of one lime, 1/4 cup of fresh mint (optional, but oh-so-refreshing!), and a cup of crushed ice.
How You Make It: This easy fresh juice can be done in a standard blender with some extra pulsing to get everything combined. The end result is a delightful taste of summer in a cup. In a blender, it has the consistency of a thick slushie. I am sure it would be great with a shot of an adult beverage added, but this post is about the health boost so I will leave that out:)
Why It is Great: It's light, it's fresh, and it's detoxifying! The watermelon has citrulline, which takes on antioxidant and diuretic roles. Cucumber is loaded with vitamin C and beta-carotene. Mint has anti-inflammatory properties. Lime further boosts vitamin C and promotes healthy skin.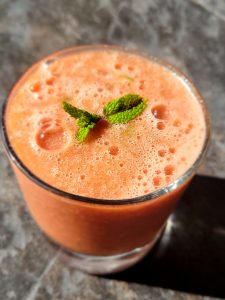 Easy Fresh Juice #2: Jalapeno-Ginger-Beet Juice
What's In It: 3 peeled and finely chopped fresh beets, one "finger" (piece) of freshly peeled ginger, one de-seeded jalapeno (or seeds-in if you're feeling spicy!), and one peeled quartered lemon.
How You Make It: You'll want a masticating juicer like one of these for this one. A basic blender won't juice those beets into submission. It's best to slowly feed these ingredients into the juicer. I tried to put them all in at once and my old Juiceman 5000 let me know it was not happy with being overworked!
Why It is Great: If a little heat in a drink or meal is your thing, this quick juice recipe is for you. Not only is it beautiful in color, but the beets are also full of essential vitamins, help reduce inflammation, increase athletic stamina, and assist the liver in removing toxins from the body. Ginger aids in digestion and adds another level of spice.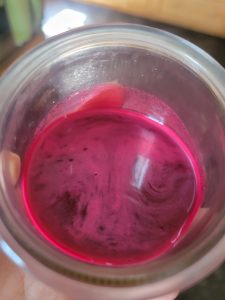 Easy Fresh Juice #3: Carrot-Apple-Ginger Juice
What's In It: An apple of your choice (I like Granny Smith or Gala), sliced, 1-2 carrots cut into quarters, and a "finger" (1-2″ piece) of freshly peeled ginger, 1/2 cup water (optional).
How You Make It: Combine all ingredients into masticating juicer, adjusting water content to the preference of flavor. I personally don't add water but may serve over ice. Option to filter the juice through a sieve for a cleaner drink.
Why It is Great: Easy fresh juice ingredients often found in the kitchen are used. Carrots boost immunity, heart health, and have liver-protecting benefits. Juiced apple aids in hydration. The ginger aids in digestive health boosts immunity, and keeps breath fresh!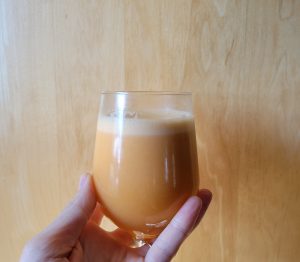 Juicing is a great way to break up the monotony of planning daily meals and boost overall health. If making juices from scratch doesn't sound like your thing, cold-pressed juice delivery from companies like Squeezed and Suja are a great option. Also, check out our post about Eat Clean Meal Prep!
I am on the hunt for new, energizing quick juice recipes to try. What are some of your favorites?